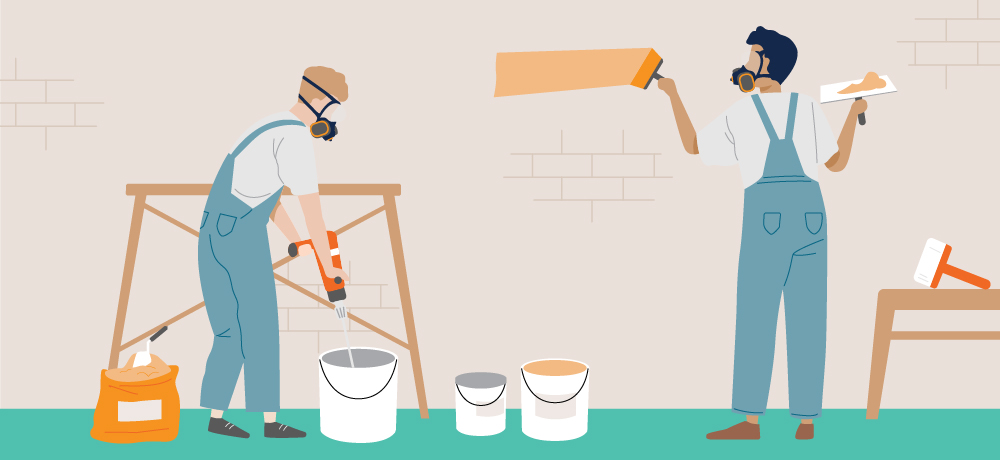 How to Become a Construction Painter or Commercial Painter
Painting jobs are a great opportunity for people who like physical work and who have a good eye for detail. In this role, you can work in a variety of industries and work settings: inside manufacturing facilities, at residential or commercial developments, or on major construction sites. Below, we share what you need to know about painter jobs, including wages, general duties and career outlook.
How much does a painter make?
The median hourly wage for painting and coating workers is $18.63, according to the Bureau of Labor Statistics. Wages vary by industry and the specific duties and experience required. For example, painters in construction who paint large structures such as bridges or buildings may receive higher wages than those in manufacturing.
What does a painter do?
Painters can find work either indoors or outdoors—painting buildings, homes, interiors, machinery or consumer products. Painting jobs can be physically demanding and require that workers bend, kneel, reach and climb regularly. Common duties for painters include:
Covering surfaces with drop cloths or masking tape and paper to protect surfaces during painting.
Prepares various surfaces for painting by washing, scraping and sanding.
Applying primers or sealers to prepare new surfaces, such as bare wood or metal, for finish coats.
Mixing various paints, varnishes, stains, and special protective coatings to achieve desired color, consistency and drying properties.
Painting using a brush, roller, spray gun or another applicator.
Using special finishing techniques such as sponging, ragging, layering or faux finishing.
What qualities does this role require?
Painters must have physical strength and stamina as well as great attention to detail. They must be familiar with the various tools and chemicals used in the painting process and know how to use them safely and effectively. Finally, those who paint larger structures like buildings or bridges must be able to work at extreme heights or in uncomfortable positions.
What qualifications do you need to be a painter?
Some employers prefer that painters have experience on either commercial or residential job sites, but not all painting jobs require previous experience. In general, workers in this role should know how to use a brush and roll and how to do drywall repair. You also typically need a high school diploma or equivalent for most painting roles.
What's the job outlook for this role?
Overall employment of painting and coating workers is projected to grow 7% from 2020 to 2030, about as fast as the average for all occupations, according to the BLS. About 17,200 openings for these positions are projected each year, on average, over the decade.
Find CONSTRUCTION painter jobs and more outdoor jobs with PeopleReady
PeopleReady offers many types of painting, landscaping and construction jobs throughout North America. For jobs that require little to no experience, download our app, JobStack, and get access to temporary jobs 24/7 or reach out to one of our many local branches. Meanwhile, our skilled division, PeopleReady Skilled Trades can help skilled workers find jobs which require prior experience and fit your skill set. For example, our current in-demand jobs include:
Site maintenance workers
Cleanup crew members
And more!