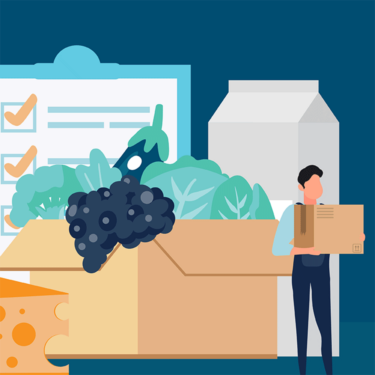 Leading Staffing Solutions for Meal Kit and Food Delivery Services
Meal kit providers and food delivery companies employ hundreds of warehouse workers to ensure safe and accurate deliveries to their customers. For example:
Food prep workers who measure and package ingredients.
Assembly and production workers like pickers, packers and sorters who assemble kits based on selected recipes.
Quality assurance workers who ensure that each kit is properly assembled and safe for customers.
Sanitation workers who clean and sanitize production equipment and the entire work environment.
PeopleReady and our mobile app, JobStack, provides meal kit staffing solutions to fill these roles with qualified candidates. Here's how:
1. Compete for the best workers available
Even as the demand for meal kit services increases, workforce shortages in manufacturing and warehouse also continue to persist throughout the U.S. When you partner with PeopleReady, you have immediate access to an active roster of job seekers. No matter what your location, we can provide you with motivated workers to get the job done as quickly and accurately as possible.
2. Ensure staffing flexibility
Predicting customer demand is no easy task. Using our on-demand staffing model and mobile app provides much needed flexibility that benefits your business and workforce. As a result, you have a vetted pool of workers to call at a moment's notice—which means you can easily adapt to changes in supply and demand.
3. Get access to necessary skills
Food manufacturing and warehousing operations require workers who understand quality assurance and food safety policies and procedures. Sometimes they may even need certain qualifications and training. PeopleReady offers convenient access to a wide variety of workers who will meet your specific needs.
With our nationwide footprint along with our expert recruiters who live in your local community, PeopleReady has the warehouse staffing solutions you need to succeed. Meanwhile, our app, JobStack, gives you easy access to warehouse staff 24/7 on your mobile device.
Don't wait until it's too late. Request your meal kit staff today!
PeopleReady, a TrueBlue company (NYSE: TBI), specializes in quick and reliable on-demand labor and highly skilled workers. PeopleReady supports a wide range of industries, including construction, manufacturing and logistics, waste and recycling, and hospitality. Leveraging its game-changing JobStack staffing app and presence in more than 600 markets throughout North America, PeopleReady served approximately 83,000 businesses and put approximately 226,000 people to work in 2022.