Meet the Reimagined PeopleReady Client Experience
Hospitality Recruiting Has a New Standard
Marriott's longstanding partnership with PeopleReady is evolving, and we're excited to share the changes coming to you. Great workers are the heart of your business, and we take pride in helping you find those workers who live up to the Marriott standard. Your new client experience was created to ensure you have the resources, support, and confidence you need at every step of the staffing process!
Your collaborative support team is ready to provide you with end-to-end service as we serve your temporary and long-term staffing needs. Here are some of the highlights you can look forward to:
New Enhancements:
Rapid Response Team: Our team-based approach leverages both regional and local staff to ensure we readily respond to any request in a timely manner. See the map to identify your primary PeopleReady contact.
Dedicated Program Management: Every Marriott hotel group now has an assigned program manager who will serve as your primary point of contact. Their primary responsibility is to fully understand your hiring needs and then navigate our branch network to ensure we fill those positions—with exceptional service delivery. Program managers have tenure in lodging operations and truly understand and can relate to these unique industry challenges.
Centralized Candidate Recruitment Team: We offer a centralized team of specialized hospitality recruiters that finds unique talent specific to your needs. They source individuals who embody a "Spirit to Serve" attitude and understand what it takes to fill "Heart of the House" and "Front of the House" positions for housekeeping and food and beverage positions. Every associate meets Marriott compliance requirements and is e-verified, drug-screened and background-checked.
Heart/Front of House Staffing and More: As your needs change, so do our solutions. If you need a flexible workforce during a hotel's pre-opening or want to turn a temporary worker into a permanent employee, we are ready to help. Your dedicated program manager will craft specific solutions and a scalable workforce to meet your unique needs.
Ongoing Communication and Site Visit: Between your program manager and local branch staff, expect ongoing communication and regular site visits to your property to ensure we're meeting and exceeding expectations. This includes in-person project "onboarding," as well as ongoing communication to review performance.
Dedicated Program Managers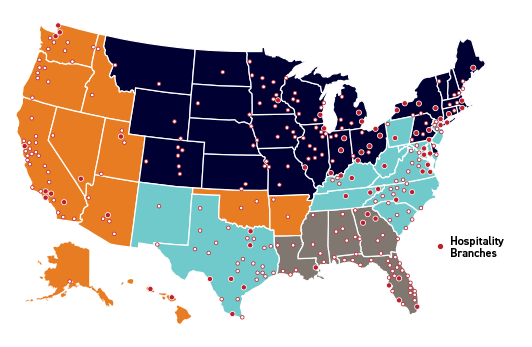 PeopleReady Leadership Team
Kimberly Cornelio
Senior Director of Hospitality
860.692.8988
kcornelio@peopleready.com
PeopleReady specializes in quick and reliable on-demand labor and highly skilled workers. PeopleReady supports a wide range of blue-collar industries, including construction, manufacturing and logistics, waste and recycling, and hospitality. Leveraging its game-changing JobStack platform and 600-plus branch offices across all 50 states, Puerto Rico and Canada, PeopleReady served approximately 98,000 businesses and put more than 221,000 people to work in 2020.