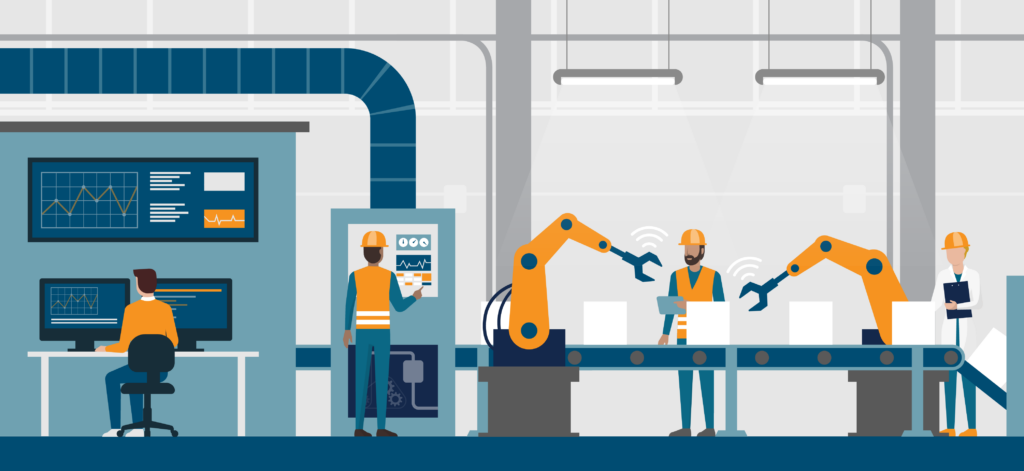 The holidays are the busiest time of year for many manufacturers. To help you stay ahead of the game, PeopleReady shares our guide to holiday staffing for the manufacturing industry, including:
Manufacturing trends to know for the 2023 holiday season
Tips to take your holiday staffing plan to the next level
The benefits of partnering with a staffing agency for holiday staffing
Manufacturing trends to know for the 2023 holiday season
An extended holiday shopping season
Over the last few years, the holiday shopping season has begun as early as October, or even earlier. And in 2022, many shoppers shared that they were spreading out their purchases over several months due to inflation concerns. Although worries about inflation have eased in 2023, consumers are still extending their shopping period as they hunt for early deals.
As a result, manufacturers must get ready for the holiday season earlier to meet consumer expectations. creating a flexible staffing plan to account for the extended shopping period.
Changes in inventory management
In the past, manufacturers would get ready for the holiday rush by creating a well-stocked inventory of in-demand goods and products. With the rise of just-in-time manufacturing, many manufacturers have altered their approach to managing their inventory.
What's driving this change? Online shopping is becoming more popular each year, and consumers expect their orders to be delivered quickly. In fact, 90% of shoppers say that two- or three-day shipping should be the norm. Because of this, manufacturers will have to strike the right balance between giving customers what they want and not having too much inventory in storage.
Continued workforce shortages
The manufacturing industry's turnover rates have historically been higher compared to other industries. Recently, Zippia estimates a turnover rate of around 30% for 2023, with Deloitte observing that manufacturing faces a near-record number of open roles.
Additionally, manufacturing has one of the most seasoned workforces of any industry, with a majority of workers between the ages 45 and 65, according to Lightcast. As these workers move into retirement or managerial roles, manufacturers may experience labor shortages throughout the year. This challenge becomes particularly pronounced during the holiday season, as the competition for seasonal workers reaches its highest point.
Manufacturing staffing tips for the holidays
With the holidays right around the corner, it's even more important to have reliable workers to ensure that you meet deadlines. However, many other companies are drawing from the same candidate pool.
So, how do you create a seasonal hiring plan that ensures your company is fully staffed? Here are some ideas to help you get started:
Plan ahead
Look back at past holiday seasons to see when your company has the highest demand. This will help you develop the right staffing plan for the months ahead.
Offer flexible schedules
Hiring seasonal employees who work on different schedules can support your existing full-time team. Flexible schedules are not only advantageous for seasonal employees but also benefit your full-time workers who need time off during the holiday season.
Cross-train your team
Encourage your workers to learn how to do tasks outside of their job description. This not only makes them more well-rounded contributors but also means that they can fill in for other team members during workforce shortages, vacations or busy seasons like the holidays.
Prioritize employee morale
Heightened demands during the holidays can cause stress for your team. Hiring seasonal employees reduces the burden. You can also use incentives or recognize teams for achieving goals to foster a positive and encouraging work environment.
The benefits of using a staffing agency during the holidays
A staffing agency can help support your workforce needs during the holiday season. Here are just some of the ways that a manufacturing staffing agency or warehouse staffing agency can benefit your company:
Access a larger candidate pool
Traditional recruiting methods have limited reach to today's job seekers. Working with a staffing agency gives you convenient access to manufacturing workers who are available now.
Discover workers with development potential
Many candidates use part-time or temporary jobs to get their foot in the door of a company or industry. Once you recognize top performers, you may have the ability to transition them into full-time roles or call them back during other busy seasons.
Minimize administrative tasks
Managing paperwork for temporary workers presents its own set of challenges, especially during the busy holiday season. A staffing agency saves you the headache by handling background checks, onboarding and payroll responsibilities.
Reduce turnover of full-time workforce
Hiring seasonal workers can help your team stay on track. It reduces the strain on your permanent staff, making them less likely to burn out or quit.
How PeopleReady's holiday staffing solutions can benefit your manufacturing company
To succeed in this year's holiday season, you need a staffing partner you can trust: PeopleReady. Our manufacturing staffing and warehouse staffing experts can help you create a seasonal hiring plan that includes supplemental workers. Plus, you can manage your workforce 24/7 using our app, JobStack.
If you are looking for manufacturing staffing solutions during the holiday season and beyond, PeopleReady can put your workforce within reach. We provide manufacturing workers and warehouse workers across a variety of roles, including:
Assembly and production workers
Forklift operators
Machine operators
Loaders and unloaders
Pickers and packers
Shipping and receiving workers
And more!
Looking for holiday workers?