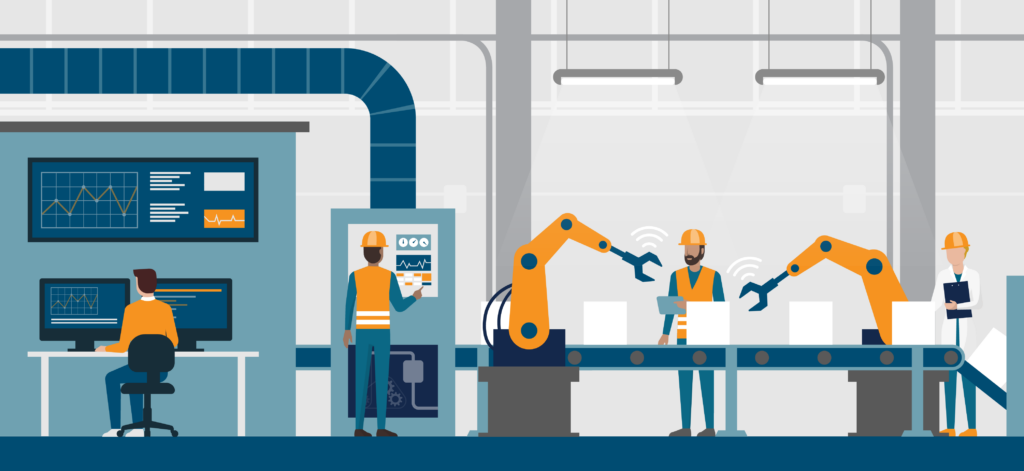 The challenges that manufacturers face during the holiday season have been exacerbated by supply chain issues and the current labor shortage. Without the products you create, warehouses and distribution centers won't have goods to transport. In turn, stores have no merchandise to sell, and consumers can't purchase the items they need. To help you create a holiday staffing plan, PeopleReady takes a look at some of the major trends that will impact the manufacturing industry this season.
Holiday sales will increase despite inflation and cost concerns
As the 2022 holiday season approaches, eMarketer predicts that total sales from physical and online stores will increase by 3.3% year over year. Online shopping is expected to grow at an even higher rate, anywhere from 11–15%. With more online sales expected again this year, having enough workers is critical to speed up production and move inventory quickly.
According to "Last-Mile Delivery: Customer Perception Report 2022," 76% of respondents said that an unacceptable delivery experience would strongly or somewhat affect their decision to order from that company again.
Holiday shopping habits and schedules have shifted
In previous years, retailers and warehouses needed more stock to prepare for the Cyber Five—the days between Thanksgiving and Cyber Monday. This week usually accounts for nearly a fifth of all e-commerce holiday sales. However, with rising inflation and supply chain delays, consumers won't be as focused on the Cyber Five in 2022. Instead, they're likely to spread their holiday shopping over several months to stay within their budget.
Retailers are also expected to begin advertising sales and Black Friday promotions as early as October, as they did in 2021. According to a study from Salesforce, 37% of American shoppers plan to start shopping well before Thanksgiving.
The labor shortage has reduced the pool of available holiday workers
Factors like the Covid-19 pandemic and the Great Resignation caused 47.1 million American workers to voluntarily leave their jobs in 2021, according to the Bureau of Labor Statistics. Many workers are still hesitant to return to the workforce, citing low wages, difficult schedules, and a lack of incentives. They have also become more selective and do more research on employers before applying.
Also in recent years, many full-time employees pivoted to temporary jobs for the flexible scheduling. As many as 55 million Americans are gig workers, according to Pew Research. Some ways that employers are attracting workers now and for the holiday season:
Emphasize scheduling flexibility with self-directed hours, on-demand shifts or self-scheduling options.
Use your job postings to advertise the perks of working for your company during the holidays.
Expand your recruitment efforts to include overlooked groups like veterans and Gen Zers.
How partnering with a recruitment agency can help solve your holiday staff shortage
Without proper staffing support, you may not be able to meet tight deadlines during the holidays. As your trusted staffing partner, PeopleReady can streamline the hiring process and provide access to vetted workers during the holiday season. With our community presence in 650-plus markets, staffing experts are available in your area to help match you with job seekers in your area. Meanwhile, our JobStack app gives you access to candidates 24/7, allowing you to fill open roles even on short notice.
PeopleReady fills a variety of roles during the holidays and all year round for manufacturers, warehouses and distribution centers. For example:
Forklift operators
Machine operators
Sorters
Shipping and receiving workers
Assembly and production workers
Loaders and unloaders
Pickers and packers
Looking for holiday staff?