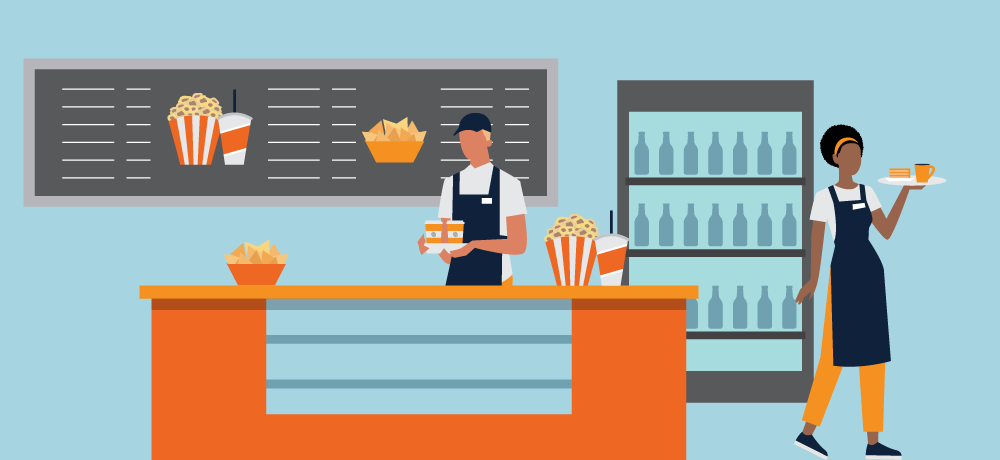 Live and Special Event Staffing
A Morning Report study shows that live events attendance has returned to pre-pandemic levels, with the share of sports fans comfortable attending outdoor and indoor events as well as full capacity and limited capacity events all reached record highs. Venues of all kinds — like concert halls and sports arenas — are looking to ensure safety, maintain customer loyalty and reinvent the guest experience. See how venues are changing and how this affects your future event hiring needs.
Health and safety will become a bigger priority
To help guests feel safe and comfortable, venues must maintain certain safety rules: physical distancing, limiting long lines when possible, and reducing venue capacity. Touch-free hand sanitizing stations will continue to be available, especially at entrances, exits and other high-traffic areas.
"56% of respondents say social distancing measures should remain in place with venues operating at a reduced capacity. "
Whatever safety standards they choose to adopt, venues must be open and transparent about their cleaning practices. And, they need to communicate them with their guests. According to a recent Deloitte survey, 85% of respondents said visible cleaning would be most or somewhat important to them in public spaces. As a result, extra cleaning workers will be needed to clean and sanitize common areas and amenities more frequently. Being able to see cleaning practices firsthand makes guests feel safer and more likely to return.
Food and beverage service will look much different
While buffet tables and long lines at the bar were the norm, guests are now more aware of health and safety risks. Many venues are moving toward a cafeteria or family-style approach, where service staff will deliver food and beverages directly to guest tables. High-touch areas like condiment and beverage stations are out, with individually packaged options now being offered.
Additional staff members will serve venues well, taking food orders or providing table service in common areas and private suites. They might work as vendors, walking the aisles and selling to fans directly. This helps guests avoid the line altogether and ensures that they miss as little of the action as possible. According to Oracle:
48% of consumers say they would feel safer if their food were delivered to their seat.
51% would pay more for in-seat delivery options.
47% of consumers would pay more to cut the line for food.
Technology will enhance the customer experience
Venues are making investments in technology to ensure safety and improve the overall fan experience. For example, touchless technology continues to be used more frequently for security checks, ticketing and concessions. Sensor-activated faucets and soap and paper towel dispensers will become even more common.
Mobile ordering has become a part of the experience as well. Guests can avoid touchscreens and keypads by using their phones to order refreshments and other items and pay directly. This minimizes staff contact and improves speed of service. The key will be to have the right concession workers on your team to ensure prompt delivery and guest satisfaction.
Event staffing support for your venue with peopleready
The exact job duties of your event workers may change in the future. But no matter what, they need a great attitude and attention to detail. Creating a memorable experience during your next event starts with having the right event workers who go the extra mile to meet customer needs and exceed expectations. 
When your venue starts to see bigger crowds again, you need more workers to welcome them back. How do you make it happen? PeopleReady's app, JobStack, allows you to request workers 24/7, wherever you are. That includes prep cooks, concession workers, cleaning crew members, ticket-takers and more. Take advantage of our hospitality staffing solutions today!
Do you have event hiring needs?