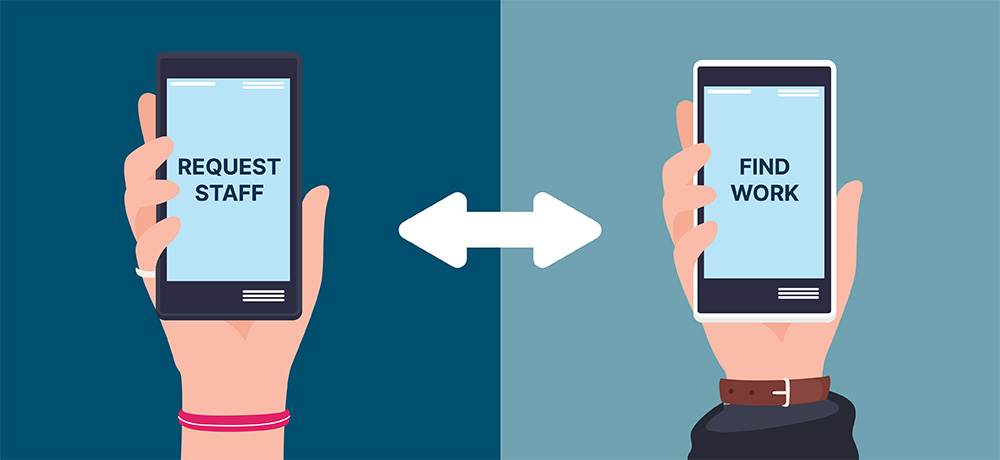 Holiday Staffing Made Easy with JobStack
The holiday season is the most stressful recruitment period for HR professionals, according to HR Dive. Aggravating factors, like the Covid-19 pandemic and the Great Resignation, have made hiring holiday workers even more difficult in recent years. As a result, your holiday staffing plan needs to be flexible and account for changes in schedule. Here are three ways that PeopleReady's app, JobStack, can help support your staffing needs throughout the holiday season.
Increase your readiness for last-minute emergencies
In the 2021 holiday season, employers had to trim back their seasonal hires due to a tight labor market caused by the Great Resignation. Their current employees worked over five million overtime hours to account for the holiday rush and sudden absences. While the 2021 season was lucrative, overtime hours are routinely more expensive than hiring and training new seasonal employees.
Last-minute emergencies also happen in all industries, ranging from delayed shipments to no-call no-shows. Using JobStack makes it easy for you to request staff 24/7 from the convenience of your mobile device. You have total control of your workforce management even outside of normal business hours. Just log onto JobStack, request the workers you need, and have them on-site and ready to work the next morning.
Stay ahead in the competition for workers
With labor shortages in many industries, many businesses compete for the same worker pool. The competition for the best talent is tough, and the Great Resignation has made finding seasonal workers more difficult. Once businesses like yours start hiring for the holidays, you want the best staffing resources available to attract and retain the best workers.
You can meet candidates who are looking for holiday jobs by posting your open roles on a staffing app. Most job seekers these days research jobs and submit applications on their mobile devices. Mobile applications account for 61% of all applications, according to a recent AppCast report. Having a mobile app can help you speed up the staffing process and stay ahead of the competition.
Manage your workforce in one centralized platform
Finding staff for your business is one thing; retaining them is another. Meanwhile, there are extra responsibilities related to holiday staffing. These might include managing schedules, processing timesheets, and communicating with employees if a last-minute shift change occurs.
The right staffing app will have all these features and let you streamline your staffing management. During the holiday season—when your regular workforce is supplemented by many seasonal and on-demand workers—they will make it simple to keep track of your entire workforce.
Get access to holiday staff with PeopleReady and our app, JobStack
By partnering with a staffing company, you'll have the seasonal workers you need throughout the holidays. PeopleReady streamlines the hiring process by providing you with previously vetted candidates. We also offer onboarding services to reduce the stress placed on your current team.
Meanwhile, our JobStack app gives you access to our extensive network of active candidates in over 650 communities across North America. They're ready to work as needed, whether it's for a long-term seasonal role or to fill unexpected vacancies. Our app will help put you ahead of the competition when it's time to start staffing up for the holidays. With JobStack, you can:
Post available jobs and request workers 24/7.
Rate workers and invite back top performers.
Verify worker hours and avoid unnecessary paperwork.
Looking for holiday staffing support?