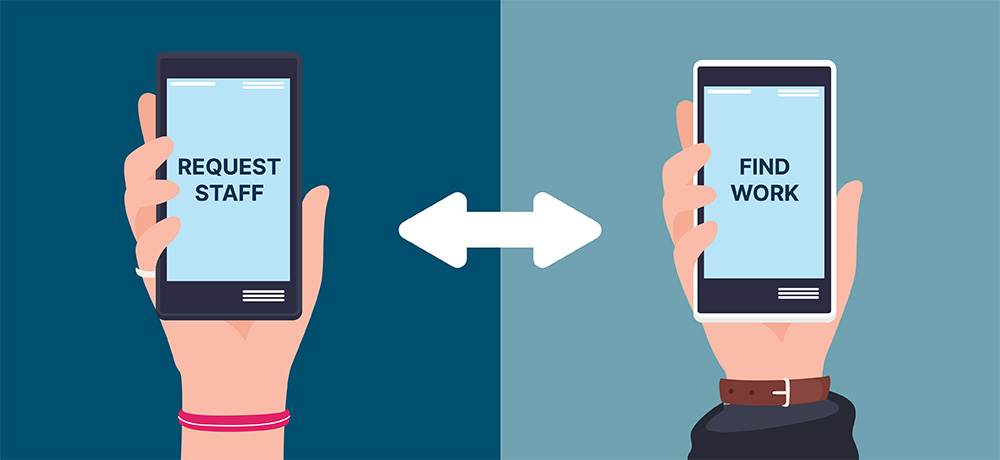 Holiday staffing solutions with PeopleReady and our app, JobStack
The holiday season is the most stressful time for recruitment, according to a survey of HR professionals by HR Dive. Additionally, holiday sales growth is projected to increase 4.5% in 2023, indicating higher customer demand. Therefore, your holiday staffing plan needs to be flexible in order to account for more business. Working with a staffing agency like PeopleReady for your holiday staffing needs can make holiday hiring easier. Here are three ways that our app, JobStack, can help support your seasonal staffing strategy.
Prepare for last-minute holiday hiring needs
Last-minute emergencies can occur in any industry, ranging from delayed shipments to employee no-shows. When such events happen during the holiday season, some companies choose not to replace their workers. However, it is important to consider that overtime is typically more costly than recruiting and training new seasonal employees. Moreover, the practice of relying on fewer workers to work extra hours can result in employee burnout and higher turnover rates, according to a study by the Houston Chronicle.
On the other side of the issue, holiday hiring adds another task to an already hectic workload. So, what do you do? This is where JobStack comes in. JobStack makes it easy for you to request workers from your mobile device. You can manage your workforce 24/7 and request the seasonal workers you need so that they are on-site and ready to work the next morning.
Stay ahead in the competition for holiday workers
During the holiday season, many businesses compete for the same pool of available holiday workers. When the time comes to hiring seasonal workers for your business, you want the best ways to attract and retain the best ones.
One approach to connect with people who are looking for holiday jobs is by posting your open jobs on a staffing app. Nearly 70% of job seekers search for jobs on their mobile devices, according to a 2022 Appcast report. These applications were most prevalent in manufacturing, hospitality and warehousing. Having a mobile app can help you speed up the staffing process and stay ahead of the competition when hiring seasonal workers.
Using JobStack allows you to expand your reach and make your job listings easily accessible to interested candidates. With JobStack, your company demonstrates its dedication to meeting the preferences of modern job seekers, showcasing your commitment to providing a great candidate experience.
From enticing perks to a positive work environment, you can ensure your holiday hiring plan is successful with our tips for hiring seasonal employees!
Manage your holiday staffing needs more easily
Finding holiday workers for your business is one thing; managing their schedules is another. Meanwhile, holiday staffing brings with it additional responsibilities. These might include schedule management, timesheet processing, and communication regarding last-minute staffing needs.
The right staffing app will let you streamline your workforce management. Particularly during the holiday season, when your regular team is supplemented by seasonal workers, the staffing app will make it simple to keep manage your entire workforce. This not only makes your hiring holiday help easier but also enhances your ability to retain top performers.
Hiring seasonal workers with PeopleReady and our app, JobStack
By partnering with a staffing agency, you can have the seasonal workers you need throughout the holidays. PeopleReady streamlines the process of hiring seasonal workers by providing you with candidates who are vetted and ready to work. Additionally, we offer onboarding services to reduce the stress placed on your current team.
Plus, you will have access to our experts who specialize in your industry, whether you need event staffing, retail staffing, warehouse staffing or other staffing support. They partner with you to create seasonal hiring strategies for your business.
Meanwhile, our JobStack app gives you access to our network of job seekers in 600-plus communities across North America. Our app will help put you ahead of the competition as far as holiday staffing goes. With JobStack, you can:
Post available jobs and request workers 24/7
Rate workers and invite back top performers
Verify worker hours and avoid unnecessary paperwork
Looking for holiday staffing support?