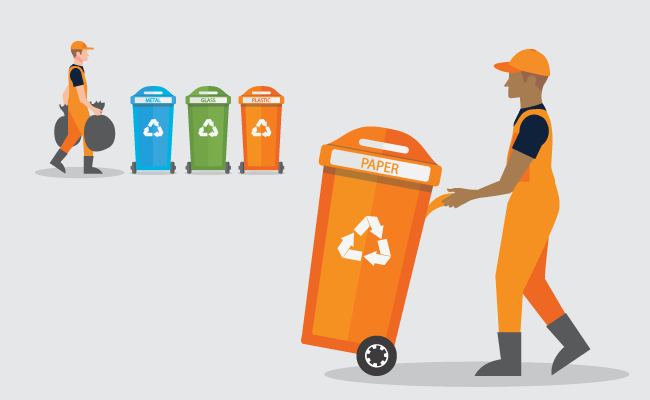 CHALLENGE
Like many cities throughout the U.S., New Orleans was faced with an unexpected problem during the early stages of the COVID-19 pandemic. Because residents were staying at home more, they were producing extra waste and recycling material: empty containers from cooking at home and ordering takeout; junk and clutter from clearing out garages and attics; and yard waste from doing landscaping and gardening work.
Local waste management company Metro Service Group had been working hard to keep up with the increase in household waste and ensure consistent pickup. Their challenge grew when the city awarded them additional service routes in the spring of 2020, an impressive win for a company that often had to compete for projects against larger national firms.
As with most of the waste management industry, Metro Service had experienced high turnover rates in the past because of the hard labor and long hours associated with the job. Add that to the excessive heat and humidity in New Orleans during much of the year and it often made for a tough hiring process.
SOLUTION
In the year before the pandemic, Metro Service had solved many of these staffing issues with support from their local PeopleReady branch. But once they were awarded the new routes, they needed an even faster and easier way to find workers willing to fill a variety of shifts.
After learning more about their growing workload, PeopleReady recommended that Metro Service start using their app, JobStack. With JobStack, they received 24/7 access to qualified, reliable workers available on demand. These workers could perform a variety of duties—such as assisting truck drivers with waste and recycling pickup or cleaning and refurbishing waste carts—and accommodate schedules throughout the week.
Placing and managing orders through JobStack would also allow Metro Service to flex their workforce and take more control of their scheduling, which was especially crucial when they had employee absences or when new service routes were added at the last minute.
RESULTS
Since joining JobStack, Metro Service has found greater success in meeting their daily workforce needs, especially for less popular shifts including evenings, weekends and holidays. And because they have the ability to rate workers through the app, they can keep track of their top performers. When they find workers who are a cut above the rest, they simply extend their assignment or request them again for future shifts.
Metro Service currently puts between 45 and 55 PeopleReady associates to work each day, six days a week, with 85% of them being secured through JobStack. With PeopleReady as their exclusive supplier of staffing services, Metro Service continues to stand out from their competition and, even more importantly, to serve their communities with great care.
Need workers for your business?