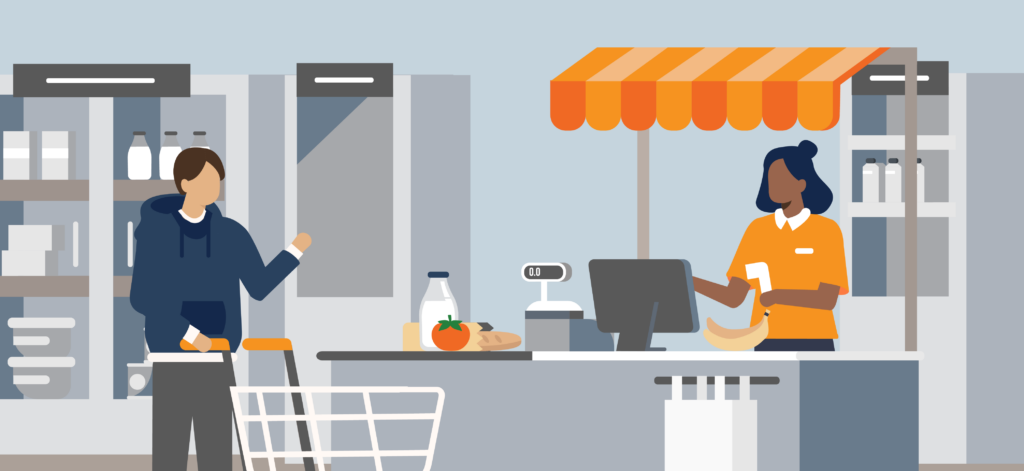 How retail staffing models may change in the new year
With in-store and e-commerce sales each rising steadily in the past year, and several companies reporting strong earnings, hopes are high for a great year in retail for 2023. However, many factors could impede the growth of retailers across the country, including economic uncertainty, labor shortage and inflation. To help ensure your company remains competitive in a changing landscape, PeopleReady shares five key retail trends that could impact retail staffing strategies in 2023.
Trend #1: E-commerce will continue to grow in popularity in 2023
eMarketer predicts that in 2023, e-commerce sales will make up 22.3% of total retail sales, up from 20.7% the previous year. This growth has largely been driven by younger generations: Sixty-seven percent of millennial and Gen Z consumers made more online than in-store purchases during and after the pandemic, notes Shopify. Meeting their expectations will be key to success in 2023 and beyond.
It's important to note that the amount of time consumers spend shopping has decreased by 20% since 2020, according to Deloitte. Given that people are making more purchases, the decline isn't from a lack of interest. Instead, consumers are continuing to look for ways to shorten their time spent shopping. That means retailers will be looking for new ways to simplify the shopping journey and provide a seamless experience.
Trend #2: Increased focus on shipping and delivery
Online shopping can be easy and convenient, but if items aren't delivered promptly, retailers are unlikely to make repeat customers. Reliability and efficiency of your shipping process are key to long-term growth for today's retailers. On the other hand, 65% of consumers will stop using a retailer if they experience shipping delays, according to a recent survey by Modern Materials Handling.
Customers desire transparency from their favorite retailers about the shipping process. After all, clear communication and regular status updates have been proven to increase customer satisfaction. Meanwhile, listing the reason for delays—like inclement weather or supply chain issues—keeps them informed and reduces frustration. Adopting smart technology and route information software is another way that retailers can better support customer communication and improve on-time delivery metrics.
Trend #3: Elevated in-store shopping experiences
While e-commerce continues to see impressive growth, many consumers still prefer the experience of in-person shopping. According to McKinsey, brick-and-mortar shopping increased by 8% between 2021 and 2022. Many aspects of in-person shopping are expected to change in the coming year, with more retailers embracing a hybrid model that appeals to all shoppers.
For example: More retailers have adopted buy online, return in store (BORIS) and buy online, pickup in-store (BOPIS) policies, providing an end-to-end shopping experience. In turn, BORIS policies also solve a customer pain point since 54% of consumers prefer to return an item in person even if it was purchased online, according to Pymnts.
In some cases, retail stores are hosting events to market the brand and sell special merchandise. Meanwhile, many of these locations are creating a unique and immersive shopping experience by adding digital components. Retailers have also added interactive kiosks or touchscreen displays, which can increase sales and improve efficiency. This smart technology can also analyze consumer behavior and inform them of different promotions, sales and discounts.
Trend #4: Ongoing supply chain and logistics issues
The supply chain is not expected to normalize in 2023, according to most economic experts. However, consumers still expect top-level service from their favorite retailers. Diversifying your supply chains and working with a manufacturer closer to your main consumers can help you maintain your inventory and on-time arrivals.
Many retailers are also building warehouses closer to their store locations to ensure the inventory for in-person customers and faster shipping for online orders. Depending on the size of the location, some or all of the retail space can instead be used as a micro-fulfillment center, ghost store or distribution center.
While these changes will also affect staffing needs, taking more control over inventory can help retailers save money while providing the service modern consumers expect.
Trend #5: Recruiting and hiring challenges may affect future growth
The ongoing labor shortage impacted retailers at every level during the recent holiday season, especially for hourly-wage roles. As a result of understaffing, employees may become overworked and unable to perform at their best. The stress also makes them more likely to quit, which can also negatively impact on-time deliveries and customer satisfaction.
Unfortunately, employee retention will continue to be difficult into the new year as well. A recent McKinsey survey found that although retail employs more people than any other sector in the U.S., it has the highest turnover rate. As such, 83% of retailers are heavily investing in recruitment and worker retention efforts, according to Deloitte.
How PeopleReady supports retailers in their 2023 RETAIL staffing efforts
With our team of staffing experts, PeopleReady offers customized staffing solutions for the retail industry. That includes our JobStack app, which is available 24/7 to match you with the candidates you need. We support staffing for retail stores, warehouses, manufacturing facilities and many other locations. If you're in need of retail staffing solutions in the new year, PeopleReady is the staffing agency that can put your workforce within reach.
Looking for retail workers in 2023?