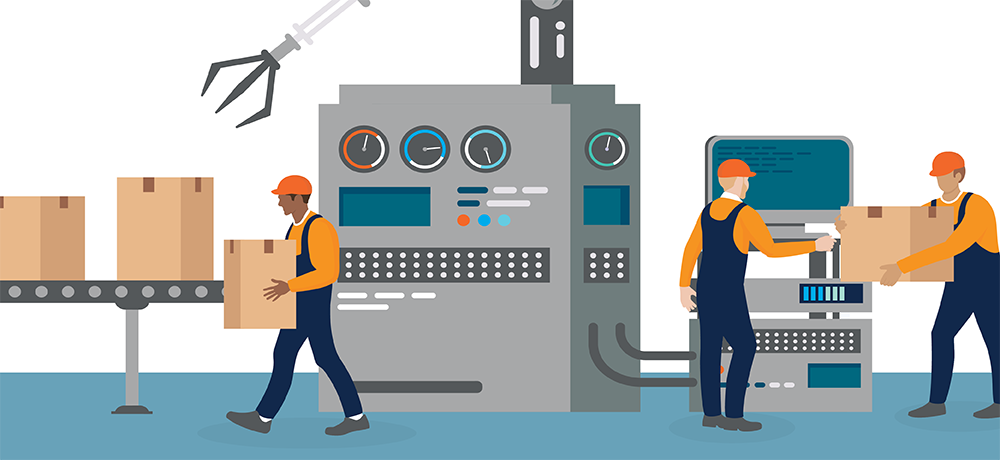 Trends in the Manufacturing Industry for the New Year
Nearly 76% of manufacturing leaders said they have a positive outlook for their company in 2023, according to the most recent Manufacturers' Outlook Survey. While manufacturers are facing a variety of challenges, opportunities abound in the new year. PeopleReady shares five manufacturing trends that will impact manufacturing staffing in the manufacturing and warehousing industries in the coming year.
Trend #1: New supply chain strategies can help ensure stability
Increased consumer spending and greater shipping demands will make adaptation and resilience vital to remaining competitive in the marketplace. According to Forbes, ongoing delays and shortages have seen manufacturers reassess their supply chain strategies over the past year. Additionally, new legislation and emergency can cause delays that impact your business.
Using multiple suppliers gives manufacturers more options to obtain necessary materials. In the event of a supply chain disruption, they can rely on other parts of their network to provide the materials, minimizing or preventing delays to your timetable. As an alternative, manufacturers can adopt a nearshoring strategy by switching their current suppliers for geographically closer ones. Nearshoring provides shorter delivery windows and is often less expensive.
Trend #2: Inflation will continue to impact buying behavior
Despite ongoing concerns around inflation, consumer spending is expected to increase even more in 2023, according to CNBC. As a result, there may be unexpected sales spikes or noticeably higher demand during busy seasons.
Meanwhile, the growth of e-commerce means a greater need for additional warehouses and distribution centers. To meet greater demand, many companies are opening additional warehouses and distribution centers, most of which are located in nearby suburbs, exurbs and rural communities. Their proximity helps meet fast shipping expectations and can lead to greater efficiency and savings.
Many manufacturing firms and warehouses across the country are keeping their business agile with a scalable workforce. Temporary workers offer a variety of benefits, including the ability to supplement their workforce and can prevent burnout or expensive overtime. As a result, employers have the workforce needed to meet customer demands without the long-term financial burden of hiring full-time workers.
Trend #3: Adopting new technology can increase efficiency and improve worker retention
Modern technology can also be a differentiator for manufacturing firms and warehouses heading into 2023, increasing efficiency and streamlining operations. For example:
Augmented Reality (AR): AR and VR devices allow for basic remote repairs to be made, benefiting relationships with customers in the long term. These devices can also be used within your company, with seasoned employees being able to train new hires even when they're at different locations.
Big data analytics: Big data analytics can enhance productivity and reduce operating costs and downtime. It's an information collector that can predict machine failures, aid in research and improve product quality.
Industrial Internet of Things (IIoT): IIoT combines software technologies to enhance efficiency and streamline work processes. Manufacturers use IIoT for its predictive and proactive abilities, including real-time monitoring, supply chain visibility, inventory, maintenance, cross-facility communication, and employee safety.
Manufacturers and warehouses will be in a better position to succeed in 2023 by identifying employees who are prime for upskilling or reskilling opportunities which makes them more productive and more likely to remain engaged with their work. Meanwhile, promoting modern technology can help recruit the next generation of workers.
Trend #4: Health and safety issues continue to make an impact
The subject of worker health and safety remains top of mind heading into 2023. In addition to basic safety regulations, ensuring good mental health and well-being will be of particular focus, according to OSHA. Adding supplementary features beyond standard safety requirements—like pathway signs, handrails and fall-protection equipment—can protect workers and show a deeper commitment to safety.
Recent innovations have made manufacturing safer, but the perception of danger can limit the industry's candidate pool. Manufacturers can consider advertising their safety policies on their website and in job postings to help inform job seekers. Emphasizing this commitment to safety matters to modern workers who want to feel valued by their employers.
Trend #5: New incentives are key to attracting top workers
There are nearly two open jobs for every unemployed worker in the U.S., according to the Bureau of Labor Statistics. While the shortage is partially due to pandemic-related early retirements, many individuals are hesitant to return to the workforce. Their primary reasons include low wages, lack of childcare options and poor work-life balance, notes the U.S. Chamber of Commerce.
Meanwhile, according to the BLS, annual quit rates in the manufacturing industry have increased nearly 10% in the last five years. Certain factors, like minimum wage increases in 2023, can help uplift the job market, but it may not be enough if inflation outpaces the pay raise.
Given that the manufacturing industry is having difficulty finding workers, new strategies can be adopted to fill vacancies. Many manufacturers are widening their recruitment pool to overlooked groups. Others have offered wages to outpace inflation. And in some cases, flexible scheduling and other incentives are being offered to provide employees work-life balance.
How PeopleReady MANUFACTURING staffing solutions can benefit your manufacturing firm
PeopleReady is the staffing agency you need to help you navigate the hiring process in 2023. Our staffing experts can help you create a workforce plan and provide temporary and temp-to-hire workers who can support your company right away. Plus, our JobStack app is available 24/7, allowing you to scale your workforce as necessary. If you need manufacturing staffing solutions in the new year, PeopleReady can put your workforce within reach.
Looking for manufacturing workers in 2023?