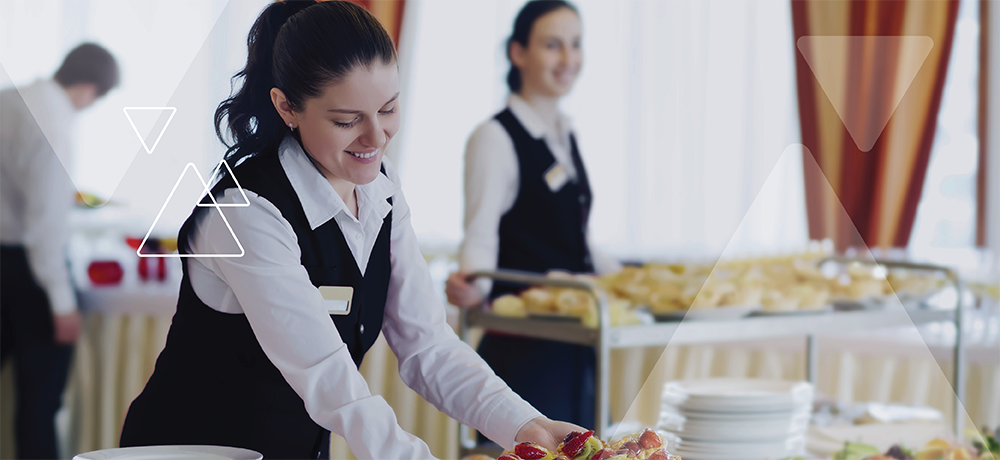 2023 Trends in the Hospitality Industry Include Supply Chain Issues, Staffing Shortages
After a period of uncertainty, the hospitality sector returned to pre-pandemic levels of profitability in the second half of 2022, according to a PwC report. However, in order to stay competitive given inflation and supply chain issues, tourism and events businesses will need to significantly increase their investment in customer experience in 2023. PeopleReady highlights five major hospitality trends to follow in the new year.
Trend #1: Supply chain issues call for flexible solutions
The effects of supply constraints are expected to continue into 2023, according to most economic analysts. And given inflation concerns, customers today are more careful about how they manage their budget and want the best experience for the money they spend. These issues have been front-page news for months, so travelers and guests are certainly aware that events may have fewer services or that goods will be in short supply.
As commodity prices continue to rise, and industry reports indicate higher costs on the way, proactive measures are recommended. For example: venues will now be more likely to procure supplies with multiple vendors in order to reduce risk. And as always, keeping the focus on proper customer service, companies can meet and even exceed customer expectations. Now more than ever, teams need to be trained on how to deliver exceptional service to guests at every level.
Trend #2: Experiential events can help increase activity
According to the Mastercard Economics Institute, 2022 saw a 72% spending increase at bars and nightclubs from 2019. Other venues such as amusements parks and concert halls saw a 35% spending increase in the past year. Now more than ever, experience counts.
There are a variety of ways to provide memorable visits for travelers and guests. Some venues choose to create seasonal or holiday themes for their events, for example. Also, companies are now looking to deliver immersive experiences and reimagined entertainment for their trade shows, conferences and corporate events. These experiential events help boost interest and build brand awareness.
Trend #3: Cleaning standards will remain a priority for guests
While customers have been excited to return to their favorite activities, they are also much more conscious about venue cleanliness. Contactless technology, such as self-service check-in and mobile tickets, became even more popular among hotels and event venues during the pandemic. In 2021 alone, 80% of consumers used contactless technology for some form of transaction, per a Raydiant survey.
Following recommended sanitation guidelines and placing hand sanitizing dispensers at entrances or check-in desks is a must. Adopting contactless ticketing and similar services can also help put visitors at ease. These features have the added bonus of increasing efficiency by allowing employees to focus on other tasks.
Trend #4: A personal touch matters more than ever
According to a recent survey by software company SuperOffice, 86% of people are willing to pay more for a unique customer experience. Using big data provides hoteliers, arena managers and other venue owners the insight to treat guests as individuals. This creates a personalized experience that incentivizes their brand loyalty.
A recent Forbes study notes that while people are traveling or attending live events, many of them are staying within a strict budget due to recession concerns. Going the extra mile to provide personalized attention shows consideration for the guest experience. In turn, guests will be more likely to book return visits or buy future tickets.
Trend #5: The labor shortage calls for a different approach to staffing
Recruitment and retention are expected to be difficult for hotels, restaurants and event venues again this year.
CNBC reports that businesses are expecting to further increase wages that outpace inflation to attract and retain workers. Meanwhile, other employers are offering more schedule flexibility and benefits to meet worker expectations.
When combined with increasing operational costs, many employers may find themselves understaffed and with a smaller hiring budget than expected. Hiring temporary or part-time workers as part of a scalable workforce strategy can ensure that they have the staff you need without incurring the costs of full-time employees.
How PeopleReady provides event and hospitality staffing solutions
PeopleReady's hospitality and event staffing experts are here to help you create a customized staffing strategy for your hotel, resort or event venue in the new year. We have a local presence in 600-plus communities throughout North America so that you receive the personalized support you need along with access to our national resources. Plus, our JobStack app provides you 24/7 access to workers, ranging from housekeepers and concierges to banquet servers and bartenders.
Need staffing support in 2023?