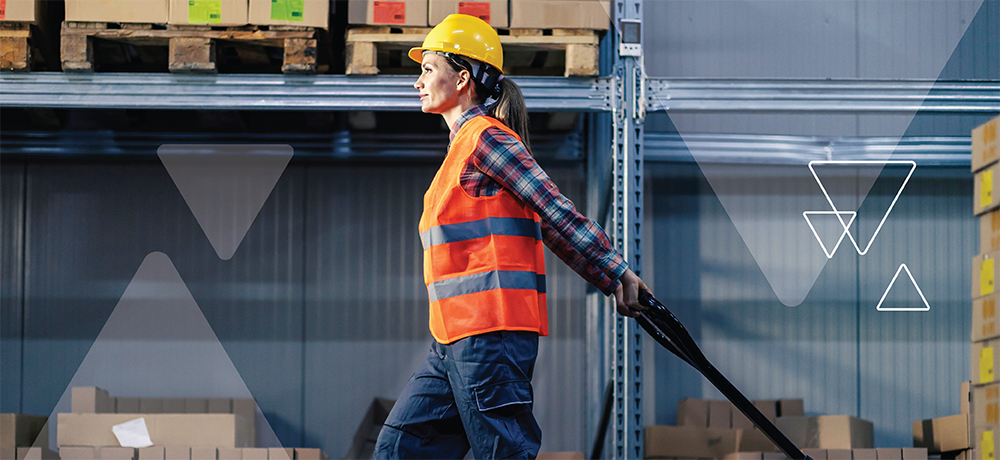 See how to get jobs in construction and build your career
Are you looking for a job that's not in an office? You're not alone. Many people prefer working outdoors and enjoying the rewards of physical labor. If this sounds like you, entry-level construction jobs might be a perfect fit for your career. Whether you're new to the workforce or looking for a career change, there are plenty of entry-level jobs in construction where you can gain valuable experience. PeopleReady shares some important info about working in construction below.
What entry-level construction jobs are available?
Working in construction gives you the chance to learn different skills and work on many projects in your local community. Entry-level construction jobs in particular allow you to explore which roles interest you most. Projects may vary, but there are many jobs on a construction site. For example:
General laborers: As a general laborer, you have a great variety of tasks. This gives you the chance to gain new experiences quickly. Depending on the project, you may use hand tools, unload trucks or operate light machinery.
Cleanup crew members: Cleanup crew members are key to ensuring the job site remains safe. You'll be responsible for clearing away any debris and materials from the area. You'll also inspect tools and equipment to help ensure the safety of your coworkers. In other cases, you may set up proper signage and prepare the job site before a shift begins.
Flaggers: As a flagger, you control the flow of traffic in and around the job site. This may help motorists or heavy machinery pass through the area. You'll place signs and barricades and notify crew members of traffic flow changes as necessary. You can also obtain further training and certifications to move up into higher-paying roles. Examples: traffic control tech or traffic control manager.
Site maintenance workers: Working in construction, site maintenance workers have various duties depending on the type of project. Their biggest goal is to prevent dangerous or costly mistakes. They perform routine inspections multiple times a day, mark off areas that may need service and report issues if necessary.
Can you make a career out of being a construction worker?
The short answer is yes. Construction jobs are expected to grow as much as 10% by 2024, according to the Bureau of Labor Statistics. That means there's a lot of opportunity!
The long answer involves some more insight into the construction industry. While many entry-level jobs in construction require little or no prior experience, more advanced roles will require certain skills. There are several apprenticeship programs, schools and universities that train workers for a specific trade. Some of the construction site jobs that require further skills and training include:
Carpenters: As a carpenter, you'll work on residential or commercial projects, depending on your specialization. Duties include building or repairing frameworks, structures or furniture. Carpenters also create or install stairways and rafters based on building plans.
Electricians: Electricians are responsible for the electrical systems and wiring on a job site. This includes maintenance, repair and installation. Electricians typically have rewarding careers, as they often have the chance to improve their skills and learn new technology.
Plumbers: Every job site needs plumbing support. As a plumber, you'll install, extend or repair the pipework connected to the water systems, central heating and cooling, and other systems. You may be involved in hands-on work or may work in a design capacity drafting blueprints and creating plumbing systems. As a result, there are many different career paths you can follow.
Skilled laborers: If you're not sure which path to choose, you can be a skilled laborer. Skilled laborers perform basic tasks to support workers in all of the roles listed above. This allows you to take on various jobs with duties that change regularly.
What skills do you need to be a construction worker?
Entry-level construction jobs often don't require specific education or experience. However, there are some skills that will serve you well in this field. Construction workers need a mix of physical endurance, practical knowledge and good communication skills.
Jobs in construction require physical strength and stamina to get the work done. Hand-eye coordination and attention to detail are key to success in any role. Other valuable skills include communication and time management skills along with the ability to work with others to complete a task.
Most importantly, you need a commitment to wearing protective safety gear for prevention of injury on the job site. Safe workers and safe job sites are at the heart of every construction project.
How do I start working in construction?
The construction industry plays a key role in helping communities grow and thrive. What does that mean for you? It means there are tons of ways you can start your new career in the field. Professional organizations have local chapters to help you get started. These include Associated Builders & Contractors (ABC), Associated General Contractors of America (AGC) and American Institute of Constructors (AIC).
If you're looking for construction work, you can check into an apprenticeship. This offers you a chance to get classroom and paid on-the-job training. Depending on your focus, you'll spend three to five years as an apprentice developing the skills you need to succeed.
The best way to start working in construction is through temporary jobs. In addition to letting you try many different roles in the construction field, these jobs will often give you the chance to work with experienced professionals who can show you the ropes. This hands-on training will help advance your career in construction and the skilled trades.
How to get jobs in construction with PeopleReady
Are you wondering how to start working in construction? The answer is simple. A staffing company can show you how to find a job in construction. PeopleReady gives you access to jobs in construction through our website and our mobile app, JobStack. Get started on your job search now and choose positions that fit your skill set and schedule.
Wondering how to find a construction job for skilled laborers or tradespeople? If that's you, our specialized division, PeopleReady Skilled Trades, can connect you with jobs in construction that require additional skills and experience. For example:
Carpenters
Electricians
Heavy equipment operators
Plumbers
Skilled laborers
Solar installers
And more!
Looking for jobs in construction?