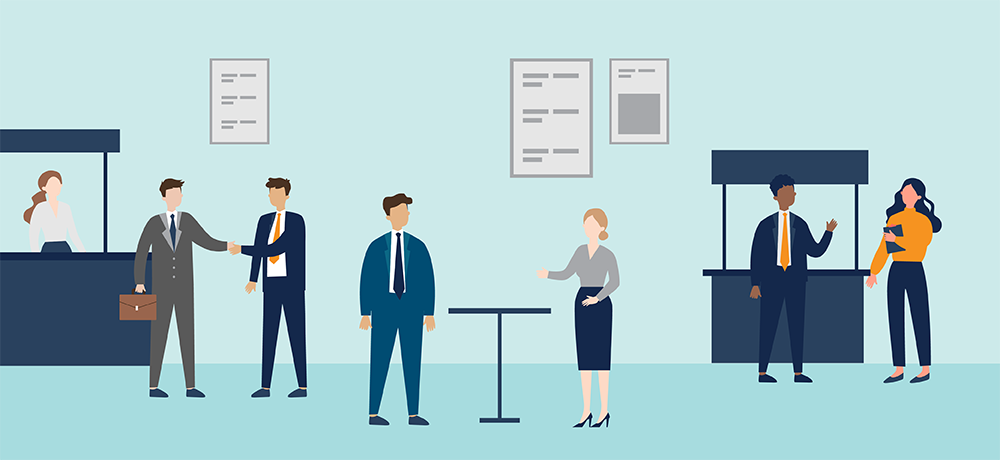 Local staffing tips that can help your business succeed
Identifying and engaging with job seekers is critical for companies to remain competitive in a tight labor market. How can you attract the best workers in your local community? To help you get started, PeopleReady shares five ways you can boost your local staffing efforts.
Create job postings to attract top local applicants
Over half (56%) of the current workforce is likely to look for a new job in the next 12 months, according to a recent Bankrate survey. That's a lot of potential applicants for your open roles. So, what's the key to getting them interested in your company?
For starters, your job postings can help you make a great first impression. You'll want to ensure that your job postings match what your target job seekers are looking for. Workers in blue-collar and service industries often cite lack of scheduling flexibility as their reason for quitting. You can use your job postings to share more about your company's focus on work-life balance.
Including the role's duties and responsibilities in your job descriptions is just as important. What can job seekers expect when it comes to daily tasks, scheduling requirements and working conditions? Sharing these details creates a more accurate description that gives applicants more reasons to apply to your open roles.
Encourage your team to refer local job seekers
Employee referrals are still one of the best ways to attract top applicants. When employees love their jobs, they naturally want to encourage others to join the team. They also know the ins and outs of the job and what it takes to be successful.
Plus, employee referral programs can help improve productivity and boost your retention rates. In fact, Forbes notes that 45% of referred hires stay on the job longer than those found through job boards.
According to a LinkedIn survey, 40% of respondents were motivated to refer candidates for a monetary reward. However, you don't need to create a formal employee referral program or pay money to gain more employee referrals. In fact, 68% said that they submitted a referral simply because they wanted to help their employer.
Use social media and other technology to attract local candidates
Technology has made searching for jobs easier than ever for today's job seekers. According to Zippia, 79% of applicants use social media when searching for jobs. Facebook, LinkedIn and Twitter are the most commonly used platforms for job seekers and can help you reach candidates in your area.
How so? By creating your own content on these platforms, you can engage with people who have skills and interest in your industry. This can broaden your candidate pool and help fill job openings before they become costly vacancies.
Using a mobile-first approach can also help you connect with more job seekers. During 2021, 67% of job applications were completed on mobile devices, according to a report by Appcast. Creating mobile-friendly applications or using mobile staffing apps to reach candidates is a key part of future recruiting success.
Collaborate with schools and local industry organizations
Even though much of recruiting takes place online these days, in-person events are still a great way for you to meet active job seekers. As part of your recruitment efforts, we recommend getting involved with organizations in your local area and attending their events. These can include job fairs, career events and workshops.
Another thing to keep in mind: The U.S. Bureau of Labor Statistics projects that Gen Z will account for 30% of the U.S. labor force by 2030. If you're looking for the next generation of job seekers, consider reaching out to local high schools, community and technical colleges or other educational institutions.
See our five tips on how to attract Gen Z workers for your business.
Consider getting extra support from a local staffing agency
In an uncertain economy, many employers are considering a different way of recruiting. Creating a more flexible workforce is one way to ensure success in your hiring strategy.
To address their recruitment challenges, 53% of employers said they would be using local temp agencies or external recruiters moving forward, according to a survey from the Employer Associations of America. Working with a local staffing agency can save you the time of sorting through resumes, conducting phone screens and other time-consuming tasks associated with hiring and recruiting.
Additionally, a staffing agency maintains relationships with local schools and industry organizations that can help to give you access to workers in your area. Their local staffing agency experts have years of experience in your field and can work with you to develop a customized strategy to find the workers you need.
PeopleReady is the staffing agency to support your local staffing efforts
PeopleReady is a local staffing agency with nationwide resources that can provide your business with general labor staffing services or skilled staffing services. We serve various industries — including construction, manufacturing, retail and more — through our network in over 600 markets across North America.
Meanwhile, our app, JobStack, can provide general labor staffing support for your business 24/7. Your orders are filled in real time so you can track their progress and be confident that you're getting the workers you need.
If you're wondering, "Do you have a staffing agency near me?" check out our locations page here.
Looking for workers in your local area?