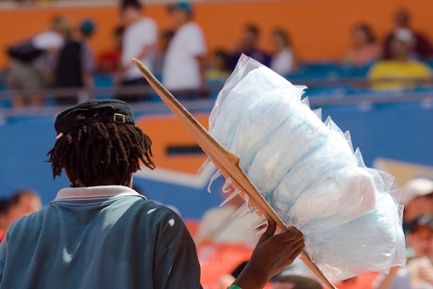 Concession Workers
Game day: There's nothing like it, especially if you work behind the scenes. And amidst all the chaos, you're the one putting the staffing puzzle together to ensure your customers and the fans, enjoy a seemingly flawless experience. Fans do notice dirty bathrooms and long concession lines. These issues and many others, come down to the three biggest staffing challenges in the events and venues industry: finding enough workers, timeliness, and quality.
Challenge 1: Finding enough workers
For a fan, there's nothing worse than turning a corner to see a long concession line. For a venue using temporary labor, this can almost always be attributed to fill rates. Low fill rates mean stations are not staffed to capacity, creating long lines. Long lines potentially equates to lost revenue.

When looking at staffing companies for help, search for companies that put a premium on building their bench. Kimberly Cornelio, senior director of hospitality operations at PeopleReady, believes in developing a pool of workers who want to attend these events because it decreases the chance of call-offs.

Call-offs can be devastating, due to the lack of notice and is especially challenging in areas where there is low unemployment. When possible, team up with a partner that can offer creative staffing solutions to find quality, skilled workers. Creativity means embracing technology like apps for mobile devices, such as JobStack. These apps allow staffing companies to provide their local touch with speed and efficiency by allowing customers to post their jobs and connect with qualified workers around the clock.
Challenge 2: Timeliness
Staffing for game day is no small order. A normal game day can require hundreds of temporary laborers to staff every station to capacity. Upon arrival to the stadium, each worker has to checked in by security and then taken to the correct station. Having workers arrive late delays this already tedious process. Cornelio suggests having your staffing partner organize an off-site meetup to save time. This way, all workers can be transported to the stadium together, ensuring an on time arrival.

Another key to saving time is technology. Find a staffing partner that will provide digital time clocks or offer digital solutions to time keeping. Digital time clocks solve for many problems including: saving time on clocking in and out, simplifying reporting, and cutting costs. Steve Battaglio, national sales director at PeopleReady, has seen his partners save up to 25% on temporary staffing through this technology by eliminating the need to round up on time and eliminating time card errors.
Challenge 3: Quality of workers
A lot has changed in the events and venues industry in the last five years. Stadiums have come a long way since offering the traditional hot dog and hamburger. Upgraded menus mean a higher quality of worker is needed to get the job done. For staffing companies, this can be difficult with low unemployment rates.

Battaglio believes that the key to finding quality workers is to specifically segment skilled positions from the general positions, thereby getting a more qualified candidate. Networking with local universities, veterans associations, schools and more can help you find individuals with quality skills looking for part-time work. Mobile staffing apps can also help. These apps will display your job to only those who are qualified to work it. They also let staffing partners reach a larger qualified audience more quickly than through traditional means of recruiting.

Digital staffing solutions also help with retention. Finding quality workers is hard, but having them come back again and again is even harder. Staffing apps allow customers to invite back the workers they like, giving these workers enough time to work the shift into their schedule. This alleviates the stress of finding a worker for the customer, and the stress of finding a job for the worker.

Staffing for game day will always be a challenge due to the hectic nature of the industry. Improvements in technology will continue to help ease these problems, making game day more organized. Find a staffing partner who is willing to embrace technology to help you set you staffing lineup.
Need workers for your next event?