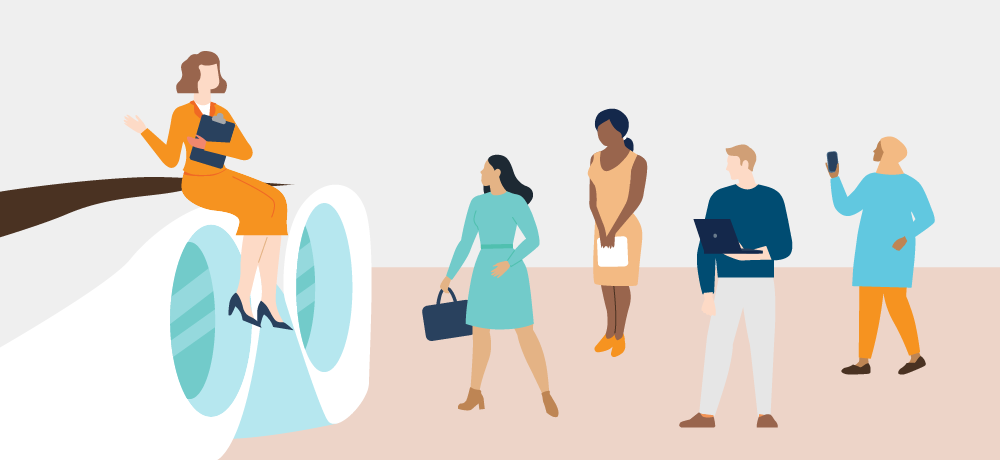 Best Company Culture Job Search Tips That Lead to Career Success
When you're looking for your next job, company culture is one of the most important things to consider. One way to find the best fit for you is by working with a staffing agency that can connect you with employers who are committed to your success.
At PeopleReady, our culture strengthens our relationships with employers and job seekers while helping to shape our path forward. Take a look at PeopleReady's five culture principles and see how they can help you find a company that aligns with your values.
We are customer obsessed
We are obsessed with providing exceptional service, building strong partnerships and enabling our customers' success. 
What this means for you: Job seekers come to us from all backgrounds and levels of experience, and they become part of the PeopleReady community. Our PeopleReady associates play a major role in creating a positive experience for our customers. When you work hard, you open the door to opportunities with employers in a variety of exciting industries. For instance, these industries include retail, hospitality and many more!
We do the right thing
We take pride in being accountable, acting ethically, operating with integrity and always putting the well-being of our colleagues, associates and customers first.
What this means for you: At PeopleReady, we empower you to trust your gut, put your own safety first, and come forward if you witness anything dangerous or inappropriate. Your well-being is at the core of everything we do, and we are committed to ensuring that your job site is free of health and safety hazards.
We stand together
We value diversity, are fiercely committed to inclusion, and aspire to a culture where all people can advance and thrive.
What this means for you: Our associates are at the heart of PeopleReady and our mission to connect people and work. That's why diversity and inclusion are so important to our culture. At all times, we strive to maintain an environment where everyone can thrive. As a result, our associates feel comfortable bringing their whole selves to any job site.
We reimagine what's possible
We pursue innovation relentlessly, boldly challenge ourselves to think differently and strive to make it easier to connect people and work.
What this means for you: We're always looking to improve our associate experience with the latest tools and technology. For example: Our app, JobStack, provides a faster and more efficient way to look for jobs in your local area. With JobStack, you can apply to jobs 24/7 from your mobile device in a few simple clicks.
We are a force for good
We put people first, are always ready to help, and transform lives through the power of work. 
What this means for you: We believe in the power of work to change lives and communities for the better. Also, we support your job search at every stage, with jobs available for parents, caregivers, college students or military veterans. Meanwhile, with every job placement, you're provided with a source of income and the chance to get one step closer to achieving your goals.
See part-time and temporary jobs available with PeopleReady
In conclusion, PeopleReady helps you find the right job every time. PeopleReady and our app, JobStack, give you 24/7 access to jobs across a variety of industries. For example:
Events and venues: Concession workers; prep cooks; cleanup crew members
Hospitality: Banquet servers; restaurant servers; bartenders
Retail: Store update assistants; customer service representatives; cashiers
Manufacturing and logistics: Forklift and machine operators; shipping and receiving workers
And more!