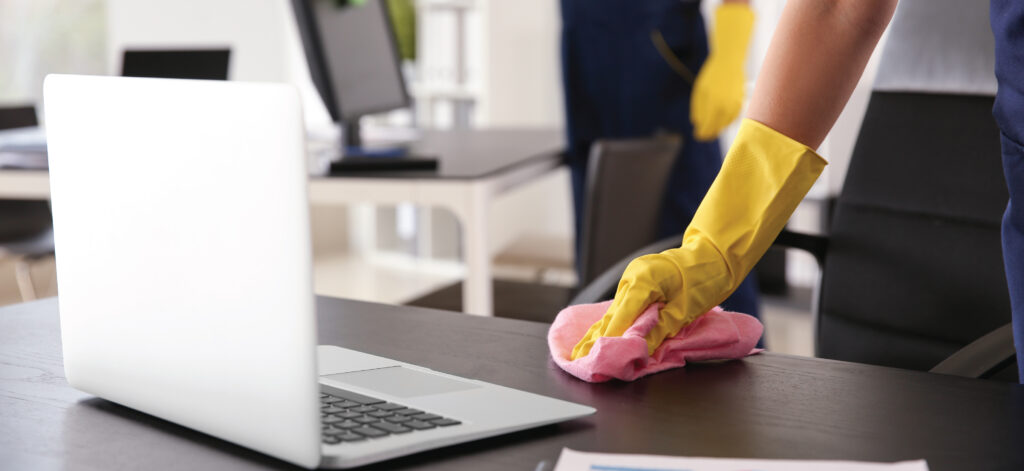 After a year of remote work and countless Zoom calls, the workforce is looking forward to getting back to office life: morning coffee with colleagues, creative brainstorming sessions—maybe even the daily commute! According to a survey by commercial real estate company JLL, 74% of workers want to return to the office at least a few days a week in the future. Having a clean workplace can put your employees at ease and gives them confidence as they return. Discover how your business can ensure that every employee feels comfortable as you welcome them back by getting support from an office cleaning agency.
Build employee trust and confidence in their workspace
A recent Deloitte survey found that two-thirds of employees are concerned about health and safety as they prepare to return to the office. But DIY cleaning after hours may not be enough to assure them that your office is clean. Eighty percent of respondents said that "visible cleaning" was "somewhat important" or "very important."
Cleaning services that employees are looking for include:
Regular cleaning of equipment and shared spaces by a cleaning service (64% of respondents).
Regular spraying and fogging to disinfect shared spaces (60% of respondents)
An office cleaning agency that provides office cleaning and janitorial services can come to your office at any time. They are even available during traditional office hours. Using their experience as a guide, an agency can develop a cleaning plan based on your number of employees, the size of your office space and other factors. Taking this step can help reduce anxiety associated with returning to the office. And it shows your employees that you're committed to their well-being and success.
Prioritize employee health and improve productivity
According to the Integrated Benefits Institute, sick employees cost U.S. employers $575 billion in productivity costs each year. Keeping a healthy workplace may be even more challenging during certain times of the year such as cold and flu season. An unclean work environment can lead to increased risk of illness. Not to mention that clutter and messes make it tough for your employees to focus on the job as well.
Without proper cleaning, your office starts to accumulate dirt and other contaminants that may affect employee health and wellness. When you hire a cleaning agency, they provide quality, detailed cleaning services that reduce potential hazards around your office. Outsourcing your essential cleaning needs helps you create a cleaner workspace.
"Between 2018 and 2028, employment of janitors and building cleaners will grow by 7%."
Prepare for social events and special occasions
As offices reopen, some habits and routines may become the norm again. For example: client meetings or birthday and holiday celebrations. Thirty-one percent of employees say that fostering relationships with their colleagues and clients was easier in the office, and these events are a major part of forming these connections.
Along with all your regular cleaning needs, a cleaning agency can provide added support for seasonal needs and special occasions. A clean office creates a pleasant environment for your employees, clients and other visitors. It also gives everyone a great impression of your business. Hiring a cleaning agency to take care of the cleaning for you lets you focus where it matters most: keeping employees and clients happy.
Get staffing support for all your cleaning needs
From small businesses to large corporate offices, PeopleReady can give your business protection and peace of mind. We provide reliable, hardworking workers for your cleaning needs. Use our app, JobStack, to get access to workers today.