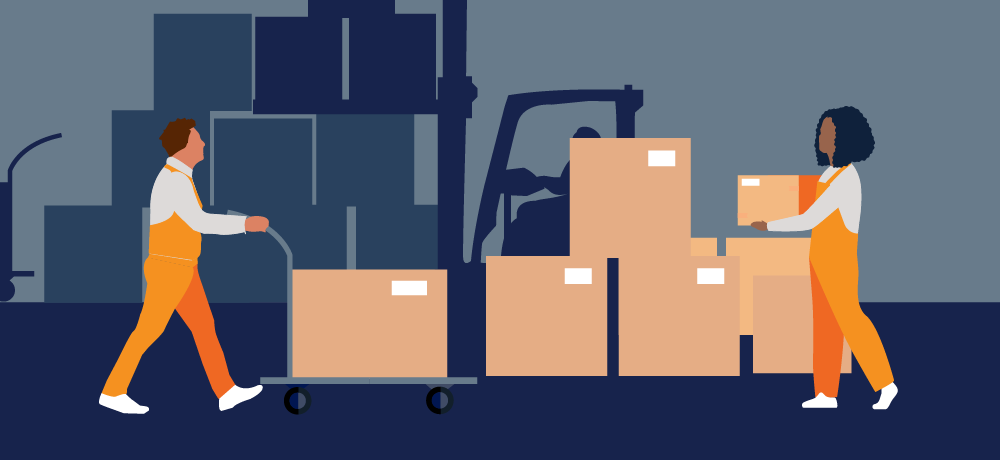 Expand into new markets with temporary staffing for your warehouse
E-commerce accounted for 14% of all U.S. sales in 2020, up from 11% in 2019, according to the U.S. Census Bureau. Although in-store shopping has returned to normal activity, retailers are still seeing buying habits move online and to mobile shopping. The growth in e-commerce is driving up demand for warehouse space, especially near large metro areas and in rural communities. If your business is looking to expand into new markets, here are three ways a logistics staffing agency can help with your staffing efforts.
Save on overtime costs and ensure staff safety
The warehouse sector employed about 8.5 million full-time employees in 2020, but that number is expected to rise to nearly 13 million workers by 2025, according to analyst firm Interact Analysis. In order to combat staffing shortages, many warehouse operators have offered overtime hours and performance incentives to their employees. But as your warehouse staff works longer hours, it might come at a cost to their health and safety.
With support from a logistics staffing agency, you have access to the workers you need right now without extra costs or added strain on your current workforce. You pay only for the workers you require at a given time. As a result, you can focus your resources on growing your business. Support from a logistics temp agency is especially crucial during the holiday season. If you need more staff, you have access to fully vetted candidates from a variety of backgrounds and work experiences.
Source candidates in a variety of locations
The U.S. will need to add 330 million square feet of warehouse space dedicated to online fulfillment by 2025 to support increasing e-commerce sales, according to a recent report from CBRE. But since many warehouses are located in the same areas, you might often be competing for the same talent pool. Finding workers beyond your local community is crucial to your future success.
A logistics staffing agency attracts the best candidates in your community as well as surrounding areas. Their broad network enables them to recruit top candidates to fill jobs that require more specialized skills. They can also help you expand your efforts in recruiting staff to reach a new audience of job seekers. This might include students, working parents and others seeking new opportunities. When you're planning to expand your business into a remote or rural area, this could be a tremendous asset.
Access candidates who have the right experience
Sixty-six percent of warehouse managers noted workload planning as "highly important" within the next two years, according to the 2021 Warehouse and Distribution Center (DC) Equipment Survey by Logistics Management. Having workers with the right skills is just one part of the staffing process. Your warehouse also needs workers who have strong problem-solving and organizational skills along with attention to detail. They also require the ability to multi-task and work in a team environment.
With their thorough recruiting, screening and qualifications process, a logistics staffing agency can provide vetting candidates who possessed today's top skill sets to help achieve your business goals. Their recruiting experts work closely with clients to gain a clear understanding of their positions, requirements, and work environment. Because of this, there won't be a long training process or questions about whether or not you have the right skills for your business.
Get support from a logistics staffing agency with PeopleReady
PeopleReady partners with you to provide a wide range of staffing solutions that improve workforce productivity and efficiency. No matter how large or complex your business requirements, our staffing experts get to know candidates. As a result, you get workers who have the right level of skills and experience. We provide support through our 600-plus locations across North America as well as our app, JobStack, which gives you 24/7 access to the workers you need.