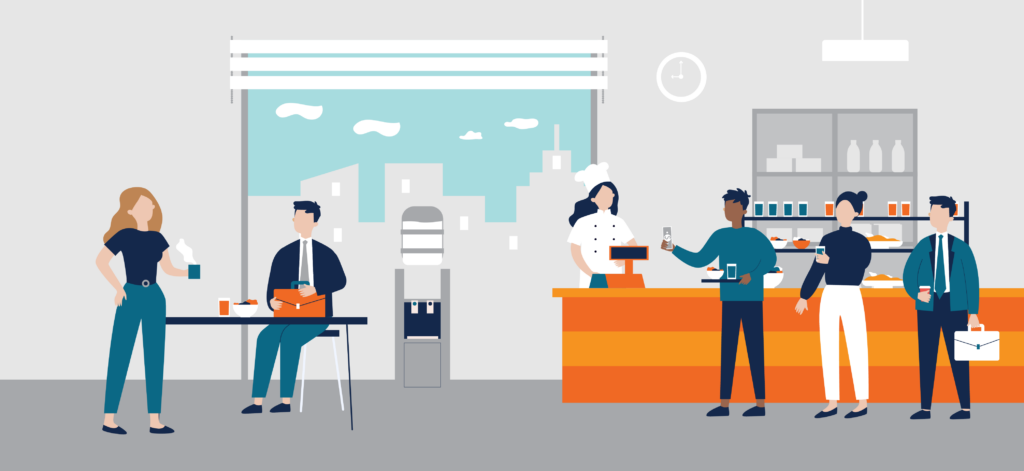 As the holiday season approaches, many people will be traveling, dining out and enjoying some extra time with friends and family. For hotels, restaurants and event venues, this means gearing up to meet increased demand. PeopleReady is here to support you with our hospitality staffing guide, which shares:
Trends that can impact the hospitality industry
Tips for hospitality staffing during the holidays
The benefits of partnering with a hospitality staffing agency
Holiday staffing trends that can impact the hospitality industry
Ongoing retention issues
Over 800,000 workers quit their jobs in leisure and hospitality each month during 2023, according to the Bureau of Labor Statistics. Factors such as limited benefits, long hours and the demanding nature of hospitality jobs contribute to high turnover rates. High turnover negatively impacts quality of service and relationships with customers.
One way that companies can address this issue is by providing incentives to seasonal workers. From employee discounts to special perks and amenities, the right incentives can encourage candidates to apply and keep them committed throughout the season.
The rise of flexible staffing
Despite inflation concerns, the economy has remained fairly resilient. eMarketer projects that this year's holiday spending will surpass that of the previous year. However, some companies may take a wait-and-see approach as they consider a more flexible hiring plan.
Hiring seasonal employees can offer that much-needed flexibility. Whether it's staffing for events, restaurants or hotels, seasonal workers can help companies for a day, a week or even the entire holiday season. Plus, hiring seasonal staff enhances scheduling flexibility, which, in turn, can boost recruitment and retention efforts.
Increased competition for workers
Since July 2021, the accommodation and food services sector has had the highest quit rate in the United States, according to the U.S. Chamber of Commerce. This means that many people are leaving their jobs in this sector, which is creating a lot of open positions. Given the high demand for workers, many different companies are competing to hire the same people.
This competition is particularly pronounced during the holiday season, when businesses across all sectors are looking to hire seasonal workers. As a result, these companies may need to come up with new and creative ways to find and keep good employees.
Hospitality staffing tips for the holidays
Customer service is a top priority during the holiday season. When you're short-staffed, your quality of service can be negatively impacted, along with your business's reputation.
So, what if you need hotel, event or food service staffing solutions during the holidays? Here are some seasonal hiring and retention tips to get you started:
Review past year's performance
Look back at last year's records for surges in traffic, bookings and reservations. This can help you determine your staffing needs for the upcoming season.
Be clear about expectations
Crafting a detailed job posting that clearly outlines the necessary experience for the position. As a result, you will attract the right candidates for your open roles.
Cross-train your staff
McKinsey notes that it is common for hospitality workers to perform a variety of different duties. Cross-training makes your current staff more well-rounded, and able to fit into different roles in the event of staffing shortages or employee no-shows.
Offer flexible scheduling
Flexible scheduling plans, like shift work, flextime, and staggered hours, can help keep your company fully staffed while giving your team the chance to enjoy the holidays.
Prioritize employee morale
Hiring seasonal workers can ease the pressure on your full-time employees. This shows that you care about their well-being and sets you up to prevent burnout and turnover by acknowledging and rewarding a job well done.
How a staffing agency supports your holiday hiring plan
A hospitality or event staffing agency can support your holiday hiring process. Here are a few of the benefits:
Quick response
With support from a staffing agency, you can fill open roles before they become costly vacancies. Their staffing experts have a large pool of candidates available immediately, even for last-minute requests.
Customized staffing solutions
Rather than providing a one-size-fits-all hiring plan, a staffing agency that specializes in hospitality and event staffing can provide insights and solutions that are specific to your industry and to your business.
Staffing flexibility
Staffing agencies can provide you with temporary or part-time workers, which gives you the flexibility to adjust your workforce size as needed. This is especially important during the holidays, when your needs may change at the last minute.
Less paperwork
Staffing agencies can handle the administrative tasks of onboarding, background checks, payroll, and other related duties, freeing you from the hassle of time-intensive paperwork. This way, you can focus on running your business and ensuring that your holiday season is a success.
How PeopleReady helps the hospitality industry with seasonal hiring
Whether you need a single holiday worker at one location or an entire workforce across many sites, PeopleReady has you covered. We have staffing solutions available for hotels, restaurants and event venues this holiday season. With our local presence in 600-plus communities throughout North America and our JobStack app, hiring seasonal workers has never been this easy or this fast.
PeopleReady offers holiday staffing solutions for many positions, including:
Concierges
Bartenders and food service workers
Line cooks and prep cooks
Environmental service workers
Ushers and ticket takers
Concession workers
And more!
Looking for holiday workers?