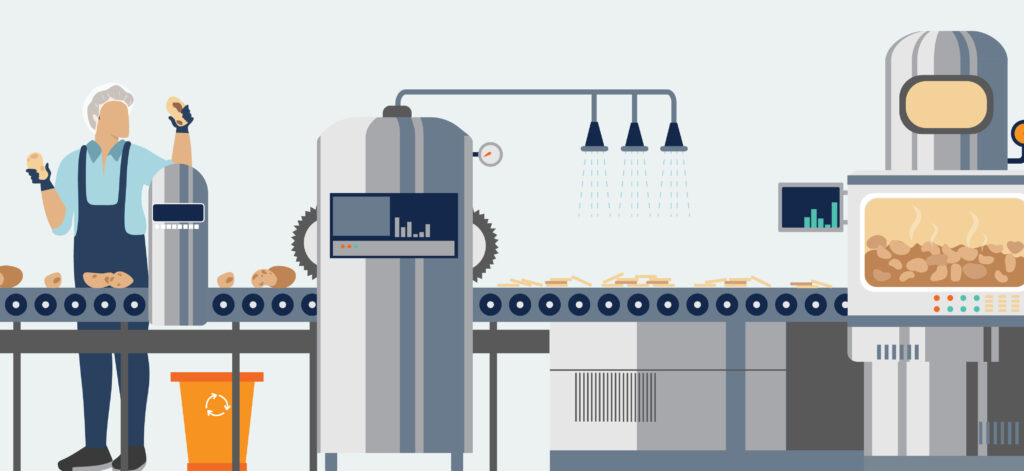 In 2021, 72% of people reported a change to their eating and food preparation habits, according to the International Food Information Council. Even before the COVID-19 pandemic began, the popularity of online grocery shopping and delivery had been growing considerably. With consumer tastes continuing to evolve, PeopleReady is taking a deeper look at the future of online grocery sales. Plus, we share how food businesses can navigate the staffing process in their warehouses and distribution centers.
Optimism for the long-term future of food and grocery e-commerce
Online grocery sales will surpass 20% of the overall U.S. grocery retail market in the next five years, a new Mercatus/Incisiv study predicts. Millions of first-time grocery e-commerce shoppers are entering the market. Many others are greatly increasing their orders. Of nearly 42,000 grocery customers in 20 states polled for the Mercatus/Incisiv study:
43% shopped online in 2021, up from 24% in 2018.
Online grocery adoption rose from 14% of respondents in 2018 to 49% in 2021.
72% of those surveyed cited convenience and 45% cited time savings as chief reasons for buying groceries online.
Also, the number of U.S. online grocery shoppers is expected to surge to 141.7 million by the end of 2022, according to eMarketer. In response, supermarkets, grocery stores and other food companies are adding a variety of meal delivery kits and prepackaged options. Subsequently, they have invested in warehouses, distribution centers and other facilities to keep up with the growth of online grocery shopping. That means hiring qualified workers who can help with packaging, picking, sorting and other similar tasks in today's food service warehouses.
Grocery and meal kit delivery services face staffing shortage
However, these businesses are still struggling to make up for workforce losses as a result of the COVID-19 pandemic, including retirements and transitions to other industries. The warehouse and transportation industry had a record 490,000 openings in July 2021, according to the Bureau of Labor Statistics. Many people are leaving the industry due to low wages, scheduling conflicts and lack of career progression, per a Business Insider report. Others have cited health concerns, lack of available child care and family responsibilities for their departure from the workforce.
While hiring numbers have improved slightly since the summer of 2021, warehouses are still struggling to fill positions. This adds even more pressure on grocers, retailers and other food businesses who are scrambling to add extra warehouse workers.
The increased use of temporary workers in food warehousing
Staffing shortages are a risk to long-term growth in the grocery sector. Online food and beverage sales will continue to grow faster than any other category through at least 2024. By then, food and beverage will represent 17% of total U.S. e-commerce sales, according to Supermarket News. However, staffing shortages are putting the future of online grocery at risk. Supply chain disruptions and labor shortages mean reductions in food service options and delivery delays that could affect customer relationships.
Largely due to the flexibility and speed it offers, hiring temporary workers has been an increasingly common strategy. Many businesses are getting support for their efforts through a manufacturing staffing agency. In fact, 52% of companies across all industries surveyed in PeopleReady's 2021 poll increased their use of temporary workers in the past year.
As businesses look to maintain their product offerings, streamline their operations and better serve their customers, temporary staff provides critical support for current and future needs.
Staffing solutions for online grocery and meal kit delivery services with PeopleReady
Above all, a staffing partner that understands the specific needs of food manufacturing and warehousing can be a great asset. At PeopleReady, we support a wide range of food manufacturing and warehousing clients. Plus, our workforce meets GMPs, FDA/USDA regulations, OSHA requirements, HACCP/SQF certifications and more.
Leveraging our game-changing JobStack app and our nationwide footprint in 600-plus communities across North America, our staffing experts ensure that you get the best manufacturing and warehouse workers for your business. Roles we fill include:
Production and assembly line workers
Pickers, packers and sorters
Sanitization workers
Equipment repair and maintenance workers
And more!
Need workers for your warehouse?