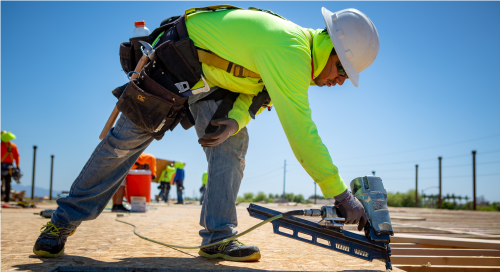 Knowing what to include in your job postings can make the difference between receiving applicants who aren't the best fit and workers who will excel in their roles time and time again. With more job options and ways to find work than ever before, it's particularly important your positions stand out among the rest with a great job posting.
Working with a staffing partner allows you access to a talent pool you wouldn't necessarily be able to reach through your own recruiting efforts, allowing you to connect with an even wider range of workers. The right staffing partner will help you think through this information because you need a posting that draws the right candidates to reach the potential employees you want. Learn these simple tips for creating a job post that will help attract the right workers for each role and let us help you build the team you need.
Choose the title wisely
Keep in mind that a job posting is different than a job description; a job description is a detailed review of the responsibilities and expectations for a job meant to use internally and for hiring while a job post is meant to draw candidates to the position and your company. Make sure you're using an accurate title for the position. If you're looking for someone with food handling safety training and kitchen experience, it's better to be more specific rather than listing something general that doesn't describe the job at hand.
Share your company story
Give applicants insight into your company's culture, value, and background. It allows candidates a look into why they want to join your team and envision themselves as part of that story. Help them to understand more about the peers they'll work alongside. Explain what makes your company interesting, what projects you're working on, and why your full-time employees stay on board.
Explain the role clearly
List the main aspects of the job so that an applicant knows whether the role is a good fit for them and how they might provide support. Outline any training or licenses needed, specific skills, and requirements so job seekers know what's expected of them right out the gate.
Sell the position
A candidate is much more likely to apply if they can get excited about a few aspects of their potential future position. They probably understand the usual requirements of the job, but they are also looking for reasons people enjoy this particular role on this team. Listen to feedback from your team—and think about why you like working there—when you write the description.
Include the perks
Are you hoping to fill a permanent full-time position? Do you offer higher pay than others? Are there education opportunities or the chance for discounts or flexibility? Any perks and benefits that help you stand out among the tens of thousands of competing postings can make a big difference.
When you're prepared to get going on finding the best workers to fit your business needs, let PeopleReady help you through the process. With over 600 branches nationwide, our staffing app, JobStack, and over 30 years of experience, we'll help build your dream team.