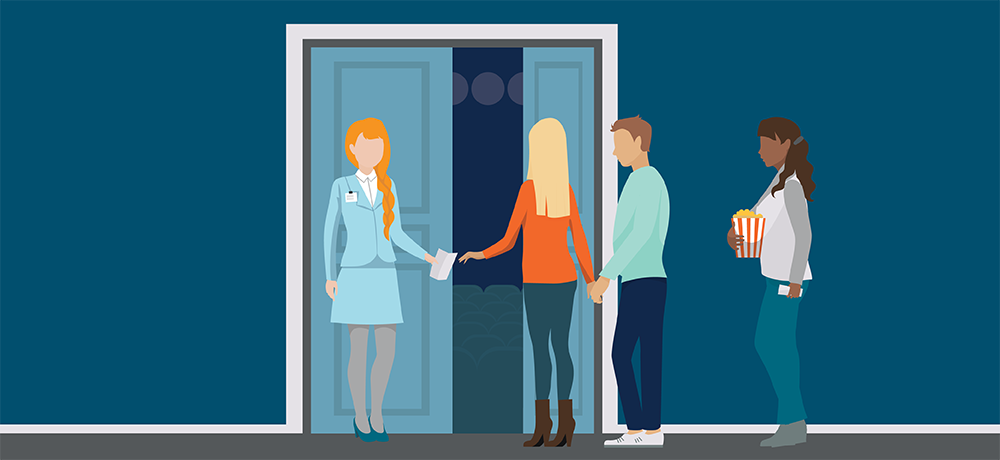 A professional and friendly front-of-house staff is key to your venue's reputation. With the right workers in the right roles, you can make a lasting impression on your guests and ensure long-term success. PeopleReady shares our guide to attracting and retaining the best event staff for your front-of-house roles. This includes:
Qualities to look for in your event staff
Questions to ask candidates for your event jobs
Benefits of working with an event staffing agency
Qualities to look for in event staff
Front-of-house workers play a crucial role in delivering the positive experience that your guests expect. Make the hiring process easier by looking for these key qualities in your front-of-house candidates:
Good presentation and appearance
The appearance of your front-of-house workers goes a long way in establishing your venue's image and reputation. If you want to create a positive impression on your guests, these workers need to dress the part.
Front-of-house workers should wear clean, professional clothing and present themselves well. This not only shows commitment and strong organizational skills, but also ensures that your workers are prioritizing an enjoyable experience for your guests.
Friendly and outgoing personality
In addition to being the face of your venue, front-of-house workers also play a major role in making your event a memorable experience from beginning to end. Throughout the event, they may serve refreshments, handle transactions or help customers find their seats.
Your workers should have a friendly and helpful attitude, which will reflect well on your venue's reputation. In fact, guests who have a positive experience are more likely to return for more events in the future.
The ability to multitask
Event venues operate at a fast pace. As a result, front-of-house staff must manage several tasks at the same time. For example, bartenders fill multiple drink orders at once, waiters serve several tables and cashiers handle long lines of customers.
During the interview process, ask your candidates questions about how they stay organized and how they would react to specific situations. Applicants who have experience working in busy venues — like concerts, clubs and stadiums — are often a good fit.
Great attention to detail
No matter what the job is, the best front-of-house workers can multitask while still paying close attention to detail. It's not just about getting the job done; it's about getting it done right.
When trying to find event staff, look for candidates who you believe can deliver a high level of service. Food servers should be delivering dishes on time, bartenders should be serving the right drinks and ushers should be familiar with your venue's layout. This level of service means your guests' needs are met and they can focus on enjoying the event.
Teamwork and collaboration skills
Front-of-house roles require great teamwork. The best front-of-house candidates will have strong communication skills when interacting with guests and coworkers. Why? Effective team communication contributes to better service, shorter wait times and higher guest satisfaction.
Plus, fostering a positive work environment through effective communication can help you keep your team happy and engaged. That's a win-win for you and your event venue.
Adaptability and flexibility
Even with a plan in place, your staffing needs can change at a moment's notice. In some cases, your front-of-house workers will need to take on duties beyond their typical role. Their support can be crucial while you seek replacement workers for your food service staffing, bartender staffing or other event staffing needs.
As part of the onboarding process for new front-of-house workers, consider providing an understanding of each team's responsibilities. When a worker needs to step into a different role, this makes it far more likely that they will understand the duties involved.
Questions you can ask when interviewing to hire event staff
The most important part of the hiring process for filling event staffing jobs is interviewing candidates. During the interview, look for candidates who are friendly and have strong teamwork and communication skills.
When it's time to hire event staff for your venue, asking these questions can help you find the best candidates:
What is your experience working as part of a team?
Teamwork is essential for event workers to provide efficient service for customers. Your event staff should keep a positive attitude and be willing to help out in any situation.
How do you prioritize tasks?
Events are fast-paced and hectic, requiring the ability to manage various tasks at once. Anyone you hire must be able to prioritize competing demands, whether they are taking drink orders, serving food or any other task.
Are you comfortable taking on new tasks?
At times, your team members will need to step into other roles. Quick learners who can think on their feet will help your team stay on track.
How do you approach difficult situations with customers?
Good people skills are essential to keep things running smoothly. Being courteous to customers, even in challenging situations, is also crucial.
Are you familiar with health and safety standards?
Event workers should prioritize the health and safety of their coworkers and your guests. This is a good time to ask if the candidate holds any food safety certifications or has other experience that might be relevant to the job.
The benefits of working with an event staffing agency
Staffing for events requires a variety of key decisions. That's why many venues work with an agency staffing for events. Smarter staffing decisions are just the beginning! If you've never worked with an event staffing agency, here are some of the benefits you can expect.
Events industry expertise
A specialized event staffing agency will possess industry knowledge that general staffing firms likely won't. For example, they understand that the workers you need for a concert venue are different from those needed for a banquet hall. The agency also vets workers ahead of time, so you can rest assured that your team will have the skills and experience needed to get the job done right.
Fast access to event workers
Staffing shortages and no-shows can impact the guest experience and put added pressure on your team. Event staffing companies offer the advantage of having workers who are available to start immediately — a stress-free solution for your whole team.
A stronger candidate pool
If you want access to a wider pool of candidates, an agency staffing for events is your best bet. The agency maintains relationships with community groups, government organizations and schools in the area, which makes it that much easier to source local, qualified candidates.
Additional administrative support
An agency staffing for events can also assist with the administrative tasks involved in the hiring process, such as time-consuming paperwork, onboarding and payroll. This gives you time to focus on other business matters.
Flexibility and scalability
In many cases, you will need to scale your workforce based on the size of the event. An event staffing agency can provide part-time or temporary workers who will supplement your workforce for a night, a week or even an entire season.
PeopleReady helps you with hiring event workers for your upcoming events
How can you find candidates with the right qualities to succeed in bartender staffing, food service staffing or any other type of event staffing? PeopleReady is an agency staffing for events in your area that connects employers and quality workers in 600-plus communities throughout North America. Our staffing experts are available to help support your hiring process for long-term success.
Meanwhile, our JobStack app makes filling special event jobs easier than ever. Whether you need to hire concession workers, ticket takers, ushers or other workers, JobStack lets you fill event staff jobs from any device 24/7.
Need catering staff for a special event? We have you covered. Looking for wait staff to hire or bartender staffing? We can do that too. PeopleReady staffs a wide range of stadium jobs, arena jobs and other live event jobs, including:
Cashiers
Concession workers
Food servers
Parking attendants
Prep and line cooks
Ticket takers and ushers
And more!
If you're asking, "Is there an agency staffing for events in my area?" check out our locations page.
Need staffing for events?