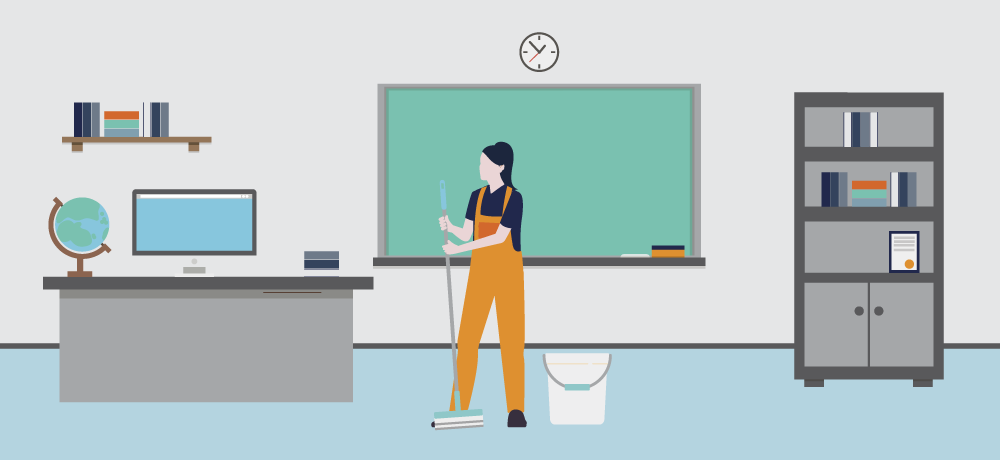 CHALLENGE
A small family-owned cleaning company in a major U.S. city earned a new contract in early 2021 with a local school district that needed long-term janitorial workers across many of their campus locations. As the district prepared to resume in-person learning during the COVID-19 pandemic, these janitorial workers would complete a variety of duties, including cleaning and sanitizing classrooms and common areas.
Due to the environment, the school district required candidates to pass background checks and drug and health screenings prior to starting. To further ensure student safety and reduce staff turnover, candidates would be asked to commit to a long-term contract.
SOLUTION
The cleaning company researched staffing agencies around the area and chose to contact PeopleReady because of their extensive staffing coverage and their local presence in the communities they would serve. They first explained the campus guidelines and qualifications they needed for their janitorial workforce. In turn, PeopleReady shared how they could use their branch locations throughout the metro area to identify local workers in several communities. Many of PeopleReady's representatives had children or neighbors with children who attended these schools and were committed to finding trustworthy people for the job.
The company was impressed by PeopleReady's ability to provide a customized staffing plan and selected us as their staffing vendor. Once they had chosen the best candidates for the job, PeopleReady placed these workers at the campuses closest to where they lived, giving the company greater confidence that they would arrive on time for their shifts.
RESULTS
PeopleReady supplied over a dozen janitorial workers who proved to be essential in cleaning and disinfecting these school campuses. As COVID-19 rules and regulations evolved, they continued to adjust to new standards and get the job done. With PeopleReady as their trusted staffing partner, the cleaning company has been able to maintain a clean environment for students, parents and faculty while providing excellent service for their new client.
Need cleaning staff for your business?