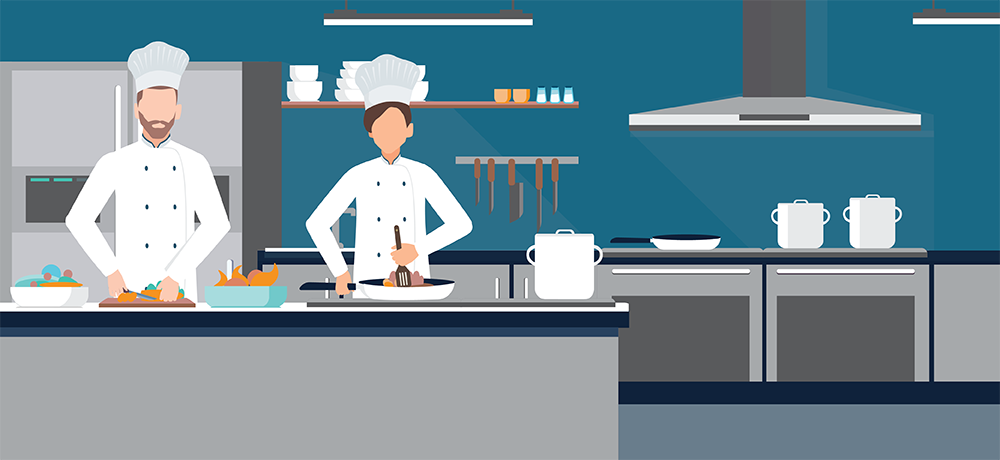 Tips on recruiting cooks and other food service workers
Since the beginning of the COVID-19 pandemic, restaurants, entertainment venues and catering services have been forced to reduce hours and require overtime for current staff due to lack of kitchen staff, especially line cooks and prep cooks. With cooks wanted all across the country, here are three ways that a hospitality staffing agency can help companies find the kitchen staff they need.
Assess necessary skills and knowledge for kitchen roles
Whether it's quick service, fast casual or fine dining, the food service industry continues to explore new ways to serve guests better. Unfortunately, eating and drinking places are still about 1 million jobs short from reaching their pre-pandemic level. The cooks that you hire need many skills to be successful, including:
Food preparation: Line cooks should be able to chop ingredients, make sauces and portion ingredients. Plus, they coordinate with other kitchen staff to ensure that meals are prepared to proper specifications.
Food safety: Line cooks must maintain clean food stations and monitor expiration dates. They also ensure food safety standards and requirements.
Communication and teamwork: Line cooks require teamwork skills and the ability to communicate effectively with front-of-house and back-of-house staff along with managers and supervisors.
When you hire cooks and other kitchen staff who have the right skills, you improve the guest experience as well as your staff morale. But finding restaurant kitchen staff with the right mix of skills often requires an extensive search. Between posting "cooks wanted" job ads, interviewing candidates and completing onboarding paperwork, the staffing process is often time-consuming.
A staffing agency can help you fill open positions quickly with recruiting experts who deliver quality staffing solutions. Their workers are vetted for key qualities so that your restaurant is guaranteed to have friendly, dependable and productive kitchen staff.
Take advantage of the latest technology in your application process
The Society for Human Resource Management reports that 92% of job seekers abandon their online applications. Using the latest technology can ensure a smooth application process and help boost applicant numbers. Job applications submitted via mobile devices in 2020 surpassed those submitted via desktop, according to Appcast.
If you're hiring cooks or other kitchen workers, consider using an on-demand app to help you fill available shifts 24/7. When using a staffing app, first determine how many kitchen staff you need for certain roles and shifts. Then you can place an order for workers with these requirements. As a result, your available shifts are filled in a matter of minutes.
Meanwhile, many of today's staffing apps have rating or review systems. This allows employers to leave feedback based on their experience with a cook or kitchen worker. As a result, you can trust that your worker has the right skills and attitude to succeed.
Explore payment alternatives such as same-day payment options
A Pew Research Center survey found that 66% of unemployed people have "seriously considered" changing their field of work. People who used to work in food service are finding jobs in warehouses or real estate, for example. Also, the Federal Reserve Board reports that 40% of people can't cover a $400 unexpected expense. Because they are struggling to make ends meet, these people are looking for ways to earn cash quickly.
While many employers pay bi-weekly, some of them are now offering quicker pay with support from their staffing agency. With weekly pay, kitchen staff get fast access to wages earned when they need money. Meanwhile, employers benefit from this feature as well. Seventy-eight percent of U.S. workers say no-cost access to on-demand pay would increase their loyalty to an employer, according to a Ceridian survey.
Cooks wanted? Where to look for the right candidates for your kitchen roles
If you're looking to hire restaurant cooks or kitchen staff for your entertainment venue or catering service, using a staffing agency can help simplify the process. Hospitality staffing agencies are great at finding new cooks and kitchen staff to serve your guests.
PeopleReady staffing experts work alongside you to support your business goals. They ensure that you have trusted and hard-working staff who can support your daily operations with their cook staffing solutions. Meanwhile, employers can place job orders from any mobile or desktop device within minutes using our staffing app, JobStack.
Looking for food service staff?