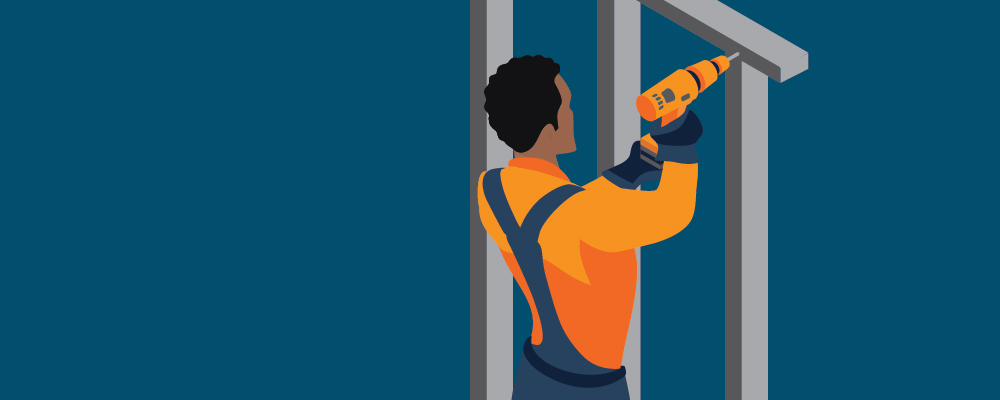 How to Find Support with Construction Worker Staffing
Every construction company will have its own staffing needs—but one thing that's true across the industry is the limited number of available tradespeople and laborers—skilled and general.
When you're getting ready to bid on your next big project, or you've got a list of jobs lined up that need additional construction staff, you may not have the time or the resources necessary to strengthen your workforce. That's where a construction staffing agency comes in. Their experts can find the most qualified tradespeople and laborers for your jobs. Meanwhile, they make the entire staffing process stress-free from start to finish.
If you need skilled, safety-minded construction professionals and general laborers, partnering with a construction staffing agency helps ensure that you complete your projects on schedule and on budget. Here's how.
Construction staffing available anywhere, anytime
Because you have a tight schedule and little room for error, an unforeseen delay can throw a wrench into your plans. When deadlines on your project change unexpectedly, you need easy access to reliable construction workers who can step in right away.
A construction staffing agency will be prepared to deliver construction workers on a moment's notice at any stage of your project. These staffing experts can also provide value through around-the-clock access to construction workers who help complete the job in a safe, efficient and quality manner. With a scalable workforce ready to go, you can take on any project that comes your way—whether you're working in commercial, residential, disaster recovery or any other sector of the industry.
A seamless staffing process
The number of open construction jobs jumped to a record-high 449,000 unfilled positions in April 2022, according to the Job Openings and Labor Statistics. Given this shortage, the process of finding the right workers to staff your construction projects can be time-consuming—including tasks like reviewing applications, completing background checks and drug testing. You also need to verify that your construction workers have the right credentials and experience for the job.
A staffing company focused solely on the construction industry can put you in touch with workers of all skills and backgrounds for your job site. All candidates will be vetted so you don't have to worry about whether they have what it takes to get the job done. They're also able to leverage the latest staffing technology, which makes connecting with these workers and putting them on your schedule much easier.
Expert construction staffing agency support
When you're trying to fill jobs for your next project, you'll not only need general laborers like flaggers and cleanup crewmembers but also skilled laborers and tradespeople—from apprentices to master—that are experts in their trade.
One of the most important benefits of working with a construction staffing agency is access to industry expertise, which many general staffing agencies are unable to provide. They'll be experts who know the ins and outs of the construction industry and have formed key relationships that will benefit your business throughout the staffing process. They have spent years building up their network through referrals and speaking with qualified candidates daily. As a result, they can meet your staffing needs immediately.
Local knowledge, national reach
An Associated General Contractors of America survey shows that nearly 80% of construction firms hope to bring on new employees this year. You're likely in that same position. But the availability of construction workers in your community isn't exactly the same as the one in the next town over. Plus, you might not always have the capacity to tap into the best talent in other markets.
Unlike most local staffing agencies, an experienced staffing partner that has deep local roots and a national footprint can source the best talent and give you even more options to choose from. Your staffing partner will be familiar enough with your community to understand its specific needs, challenges and resources. Not only do they have a broader network to discover qualified candidates, but they also understand what's happening right now in your market.
PeopleReady supports all your construction staffing needs
PeopleReady can put your construction workforce within reach. If you're looking for general construction workers, you can use our app, JobStack, to connect with our associates from wherever you are, 24/7. We also have representatives in your local community who are ready to help you out right now.
If you need skilled laborers or tradespeople, our specialized subdivision, PeopleReady Skilled Trades can connect you with tradespeople that have the tools and expertise you need to complete your project on time and on budget.
Looking for construction staff?
For General Construction Workers
For Skilled Laborers and Tradespeople