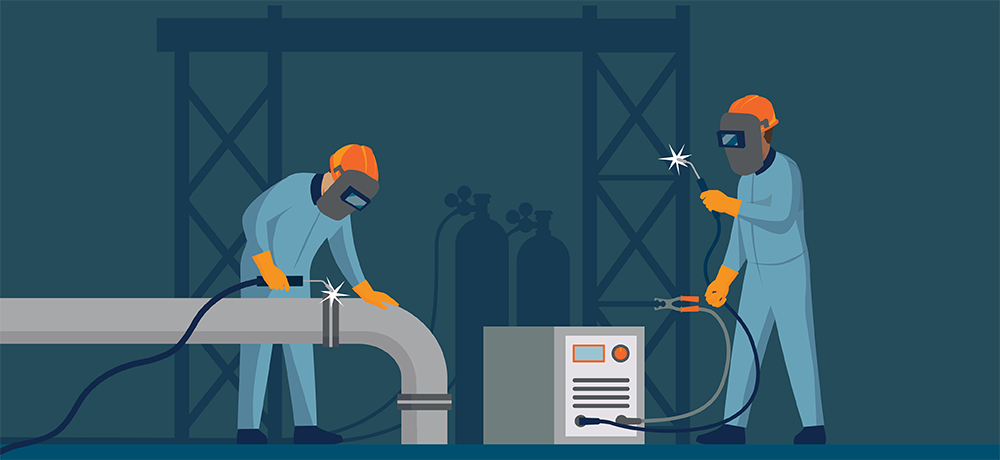 Construction staffing services that can meet your workforce needs
While every construction company has unique staffing needs, there is one thing that remains true across the industry — the limited number of available tradespeople and skilled workers. The construction industry currently needs to attract about 546,000 new workers to meet demand, according to a study by Associated Builders and Contractors.
Whether you're getting ready to bid on your next big project or you need more construction workers for your current job sites, you may not have the time or the resources necessary to strengthen your workforce. How will your construction firm rise to the challenge?
This is where a construction staffing agency can help. Their staffing experts find the most qualified construction workers for your jobs and help ensure that projects are completed on schedule and within budget. We share four ways that a staffing agency can help your construction company right now.
A seamless staffing process at every stage
If your job site is short on workers, you're not alone. According to the Associated General Contractors of America, 93% of construction companies struggled to find workers during 2022. When faced with a worker shortage, the hiring process can seem overwhelming. After all, it takes time to recruit candidates, sort through applications and vet credentials. Failed searches — whether candidates are lost to competing offers or there's simply a lack of qualified applicants — can compound these efforts.
The best construction staffing firm for your business makes connecting with the right workers easy, no matter when or where you need them. All of their candidates are fully vetted, so you don't have to worry about whether they have what it takes to get the job done. Staffing companies should also combine in-depth screening processes and safety training procedures to make sure you find reliable, safety-minded workers for every project.
Plus, staffing companies further streamline many employment-related processes like onboarding, timekeeping and payroll services.
Scalable solutions that match changing needs
Delays to large-scale construction projects have more than doubled since the COVID-19 pandemic, according to a 2022 survey from nPlan. Unforeseen staff shortages or turnover can impact your productivity and your profits.
In the event of project changes or employee absences, partnering with a construction recruiting agency helps you fill open roles quickly to avoid costly delays. Whether you need to find a single worker or help building an entire crew, the right construction staffing agency will meet your needs by sourcing workers who can complete your jobs in a safe and efficient manner. That includes matching you with workers even outside of normal business hours, helping to keep your projects on track.
With access to a scalable workforce, you can take on any project that comes your way with confidence, whether you work in commercial, residential, disaster recovery or any other part of the construction industry.
Construction knowledge and expertise at your service
How else can a construction recruitment agency benefit your business? They offer access to the industry expertise that many general staffing agencies are unable to provide.
Successful construction staffing agencies employ recruiters who know the construction industry and the types of workers and skills necessary in the field. They have spent years building their networks through referrals and by meeting qualified candidates. This means you'll have direct access to construction staffing experts who know the ins and outs of the construction industry and have formed key relationships that will help move your business forward.
Additionally, these construction recruiters can source skilled and general laborers as well as tradespeople of all skill levels, from apprentice to master-level. That means you always have access to smart solutions that can solve a broad range of staffing challenges.
Local relationships, national reach
With the rollout of the Inflation Reduction Act and the Infrastructure Investment and Jobs Act, the construction industry is on the cusp of major change all across the country. However, worker availability varies depending on the area. A flexible staffing model is crucial, and you can't develop one without dedicated, on-the-ground support.
Our recommendation: Look for a staffing agency that has local roots combined with a nationwide footprint. They will have relationships in your area and can source the best talent from their broad network of qualified candidates. Your staffing partner should understand your local market and its specific needs, challenges and resources.
On top of this local expertise, a staffing agency that offers services on a nationwide scale can use their extensive network to support your projects in various locations. No matter where opportunities take you, you'll be covered — without having to work with multiple construction staffing firms.
PeopleReady + PeopleReady Skilled Trades: Full-service support for all your construction staffing needs
Construction recruiting is made simpler by teaming up with PeopleReady and PeopleReady Skilled Trades.  
While our PeopleReady team can support any of your general laborer needs, we also understand that specialized workers are needed to complete certain tasks. That's where our specialized division, PeopleReady Skilled Trades, comes in. If you need skilled laborers or tradespeople, we can connect you with a scalable workforce that has the skills and expertise you need to complete your project on time and on budget. 
With our one-stop-shop model, We Are Ready™ to serve as a trusted partner for your construction firm and to help you prepare for the future. If you're wondering, "How do I find your construction staffing agencies near me?" visit our locations page.  
Looking for construction staffing solutions?