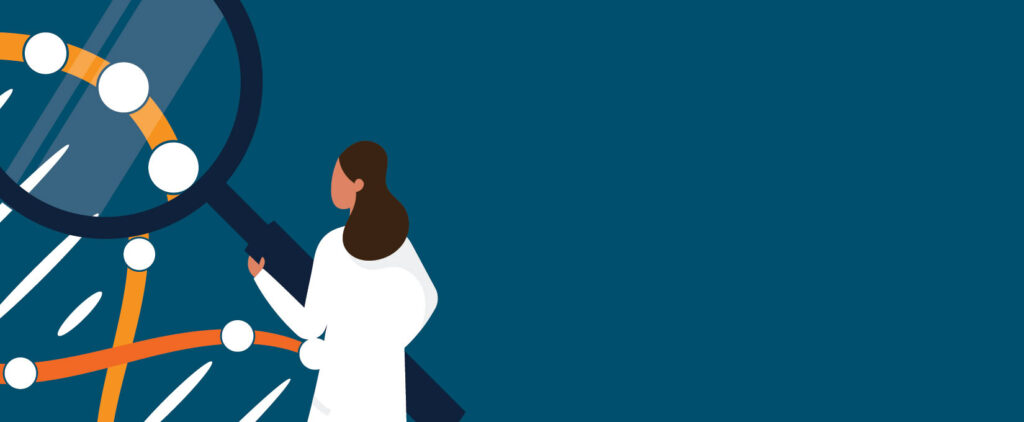 Spectrum Solutions is a company known for producing the saliva-based DNA testing kits used by Ancestry.com to help people discover their lineage. And for the company based in Draper, Utah, business was thriving.
Then COVID-19 struck, and company leaders wondered what they could do to help keep people and communities safe.
Cities across the U.S. were struggling to access and administer COVID-19 test kits to help track and contain the virus. The typical test for COVID-19 involves a cotton swab to either the throat or nose, and, with cases of COVID-19 soaring, demand was far outstripping supply. In addition, this method of testing typically requires health care providers to discard gloves and masks after close contact with anyone who may have the virus—critical PPE equipment that was also in short supply.
So, without delay, Spectrum started to explore a saliva-based testing kit using the approach and the technology they already had in place, evolving it to help in one of the most important fights of our time.
How Spectrum Solutions met their 24/7 staffing needs with PeopleReady
The Spectrum team knew they'd have to turn on a dime. Working around the clock, they were able to quickly develop a test that met the same standards and delivered similar results to the swab-testing method. What's more, under a medical provider's supervision, the saliva collection could be self-administered, which removes the need for close contact with health care workers—protecting the patient and staff and preserving PPE.
"This pandemic impacts every segment of society and keeping people safe is about everyone pitching in to make a difference," said Bill Phillips, Spectrum's Chief Operating Officer. "We saw helping as our responsibility. That meant quickly pivoting and ramping up our operations during these unprecedented times."
The FDA–EUA fast-tracked approval of the test kit, which was developed in tandem with Rutgers University and can produce results in 24 hours. With demand high, Phillips anticipated Spectrum would produce 1 million kits per month initially and eventually as high as 3 million a month. They needed more people to support production, so, the company reached out to PeopleReady, who is now serving as its exclusive staffing partner for temporary staffing support.
"Spectrum is helping to save lives. We knew they needed the best, and we'd need to be able to provide them with a workforce virtually overnight," said Stefan Hiesel, Market Manager for PeopleReady. "Working with Spectrum, we were able to meet their needs at two production facilities to support the important work they're doing."
PeopleReady associates are now a vital part of the Spectrum team, working in the "clean room" and serving as the last touch point for the kits before they are sent around the globe.
"Demands change and we need partners who can act quickly and deliver in an unpredictable environment. PeopleReady has provided us with the workforce flexibility we need at this critical time," added Phillips.
PeopleReady's JobStack app is helping the company to connect with workers as demand changes at a moment's notice. Hiesel and his team work with Spectrum to ensure the right jobs are getting to the right people to move this COVID-19 safety effort forward in a timely manner.
"Our workers know they are a part of keeping the country and the world safe during this pandemic, and they take great pride in the work they do with Spectrum," added Hiesel.
Need manufacturing staff for your business?