With the start of a new year, you've got an eagle eye on the numbers and are budgeting for the months to come. With that, you're looking at your staffing partner's bill rate and wondering what exactly goes into it. Doesn't it seem a bit high if their profit is just the bill rate deducting what they're paying the temp employee?
Not quite. There are a number of costs that come out of your total PeopleReady bill rate. Here's a breakdown to help you understand where your money is going and why partnering with a staffing company is worthwhile.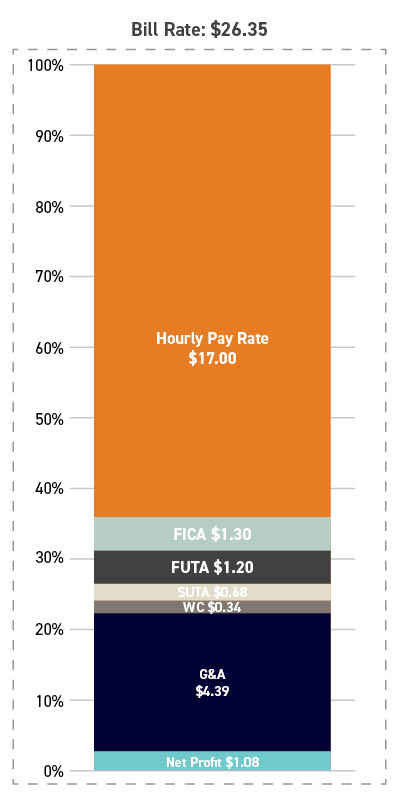 Let's use the hourly bill rate of $26.35, and the average pay rate of $17.00.
After expenses, what does the staffing company profit?
Hourly Bill Rate: Charged to customer or client
Hourly Pay Rate: Paid to staffing employee
Legally Mandated Labor Costs
FICA 7.65%; Social Security 6.20% and Medicare 1.45%
FUTA (Federal Unemployment Tax Authority – varies by state, maximum used, excluding any potential credits): 6.00%
SUTA (State Employment Tax Authority: 4.00% *varies by state
WC (Workers' Compensation): 1.99% *varies by work type and state
G&A (General and administrative expenses): 18.70% for operating and overhead costs such as corporate payroll, taxes, benefits, rent, equipment, advertising/marketing, etc.
Net Profit: The amount left for the staffing company after all above expenses
By condensing all of these costs into one simple fee for your PeopleReady bill rate, you've got fewer numbers to keep track of and a streamlined billing process—along with the dependable workforce your business needs to succeed.
Looking for staffing solutions?