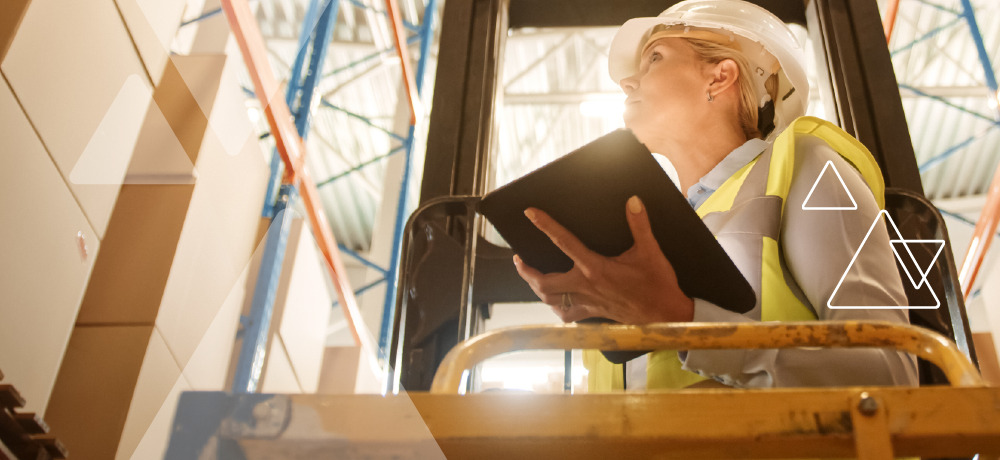 Safety First: How to Keep Your Warehouse Workers Safe
The warehousing industry has a higher rate of accidents and injuries than other industries due to the nature of the job: 4.8% of warehouse workers reported an injury in 2019, compared to the workforce average of 2.8%, according to the U.S. Bureau of Labor Statistics. Warehouse workers must operate high-powered machinery, lift heavy loads and perform potentially dangerous activities. In this article, we share three key safety tips for your warehouse. Also, you'll learn how a warehouse staffing agency offers you valuable support to ensure that your job site is as safe as possible.
Ensure that workers know how to safely operate equipment
The No. 1 hazard in U.S. warehouses is the forklift, according to the Occupational Safety and Health Administration. About 95,000 injuries each year in warehouses are related to forklifts. Safety experts suggest that warehouses follow a careful safety checklist. That checklist will cover general on-site safety checks and in-depth inspections of individual pieces of equipment and machinery. Examples include forklifts, pallet jacks, hand trucks and conveyer belts.
Along with ensuring that your equipment and machinery is in good condition, you need workers who know how to handle these tools. Warehouse staffing agencies have experts who can help you find workers with proper training to handle sensitive or potentially dangerous equipment. A staffing agency will verify these skills and provide training documentation so that you are confident in their qualifications.
Eliminate potential safety hazards
Potential safety hazards in the warehouse industry include falls, trips and slips along with overexertion and falling objects. Another major hazard is not having enough workers to support your full-time workforce. When members of your team are exhausted or burned out, they're more likely to make costly errors. However, with a full workforce, you avoid burnout among your permanent staff. As a result, you can prevent safety issues that happen when people are tired and lacking focus.
A warehouse staffing agency connects you with workers who can fill any staffing gaps, ensuring that your current staff isn't overworked. OSHA recommends that your staffing agency evaluate your job site to confirm that you meet the necessary safety standards before entering a partnership with you. It also helps to have a staffing agency with a local presence in your community so that you get easy access to staffing support.
Provide training and promote safety awareness
On-the-job training ranges from more general topics like how to recognize safety hazards and which PPE to use to more specific training on how to operate equipment and machinery. Some other recommended practices to promote safety awareness include:
Maintain clear communication with your team regarding health and safety issues.
Only allow workers with the correct training and authorizations to do certain jobs.
Train managers and supervisors to spot safety hazards.
Ensure that managers and supervisors understand what their responsibilities are to keep workers safe.
Regularly assess workplace conditions to identify and eliminate potential or existing safety hazards.
Clear walkways and return materials and equipment to their proper location.
A warehouse staffing agency will understand its responsibility to verify the skills of your potential candidates and train them as necessary before they arrive at the job site. While your company may require specific training to your job site and equipment, a staffing agency will provide more general health and safety training.
Get warehouse staffing agency services with PeopleReady
PeopleReady helps you find dedicated, qualified warehouse workers who know how to follow your safety standards and procedures. We connect you with on-demand, project-based and temp-to-hire workers with the proper skills and training for your warehouse. As a result, you are confident that the job is being completed safely and responsibly. Plus, our app, JobStack, give you 24/7 access to workers so you can request staff even at the last minute.
Need warehouse workers for your warehouse?