The hotel and lodging industry is on the verge of a major comeback after one of its most difficult years in history. Although business travel will take longer to recover, 56% of consumers say they expect to travel for leisure, roughly the same amount as in an average year. As people start traveling again for work or pleasure, hotels, resorts and other destinations will be looking for ways to enhance the guest experience. Here are four major industry trends to follow—and how hotel staffing strategies might be changing as a result.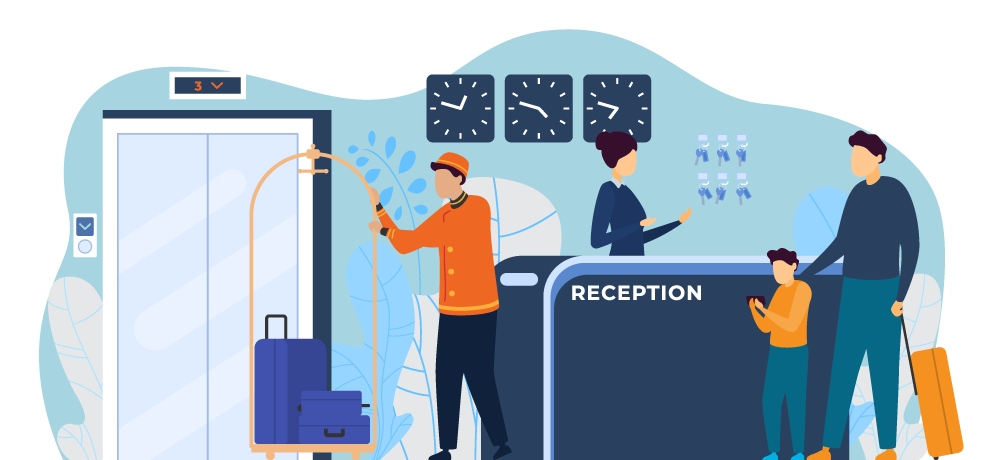 Guests will have higher health and safety expectations
People are optimistic about the ability to travel again in 2021—but safety is still a top priority. As they prepare for more guests, hotels will need to reassure them that they've put additional cleaning and safety measures in place.
According to a recent American Hotel and Lodging Association (AHLA) survey, cleanliness and hygiene are second only to price in terms of priority when customers are booking accommodations.
Meanwhile, 57% of travelers expect more transparency—both in person and on the company's website—around what hotels are doing to keep their guests safe.
Along with being transparent about their cleaning plan, hotels will need to enhance their efforts of keeping rooms and common areas clean and organized. As always, it's the little things that guests will notice: making beds properly, replacing dirty towels and linens, and restocking toiletries. Meanwhile, high-touch public areas such as spas and gyms will require more attentive cleaning. All of this means a greater demand for trained and experienced housekeepers and cleaning personnel on staff who can meet brand and quality standards.
Guest booking will be more unpredictable than ever
Because so much remains uncertain, people are planning trips at the last minute rather than well in advance. According to PriceWaterhouseCoopers, many guests are only booking about 24 to 48 hours before their arrival. As a result, it can be difficult for hotels to estimate capacity and manage their staffing levels. Flexibility in staffing will be key.
Hotels often spend too much time trying to find additional or replacement workers quickly in the event of increased bookings, last-minute call-offs and other schedule changes. In the future, having 24/7 access to a steady network of certified workers through a staffing agency or mobile staffing app is expected to be a valuable asset for immediate needs.
Dining services will introduce new meal and catering plans
Several features of food and beverage service may be a thing of the past. For example, self-serve buffets and salad bars have been replaced by table service and prepackaged items. Now, staff members will serve food on the buffet line instead of the traditional self-service route. Many hotels are also shifting to à-la-carte menus and made-to-order options.
As restaurant and dining options change, hotels may need a greater number of staff members. They also need proper training to carry out specific tasks, like creating place settings, carrying trays, and setting a buffet table. And because service is at the heart of the dining experience, they must have a great attitude with smiles and friendly greetings so that guests feel welcome.
Hotels will look to provide more private accommodations
Delivering a more personalized experience can build brand loyalty. But given safety concerns and social distancing guidelines, it's now a necessity. Many hotels now offer guests the option to book exclusive use of pool areas, banquet halls and new outdoor spaces. They may even be using vacant rooms as private dining suites. These new and updated amenities will make an impact on every part of a hotel. That includes everything from restaurants and catering to cleaning services.
The number of employees that a hotel has on staff and their areas of expertise will have to adjust to meet changing demands. A staffing shortage might mean longer lines at the front desk, rooms that aren't ready at check-in time, and fewer dining and entertainment options on site. Creating a well-rounded, balanced team and having an easy connection to workers for a variety of roles is vital to every hotel's success.
Hotel staffing services available
Whatever your staffing needs, PeopleReady partners with your hotel, resort or hospitality business to provide workers that will offer your customers a first-rate experience that they will always remember. Our app, JobStack, allows you to request workers 24/7. That includes housekeepers, catering and wait staff, cleaning crewmembers and more.