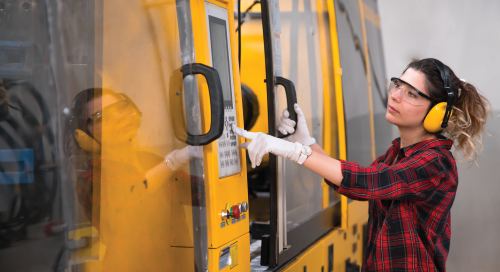 Every sector of the U.S. economy needed to react to the COVID-19 pandemic, and the manufacturing and logistics industry is no exception. Of course, most businesses experience seasonal cycles throughout the year. They're also generally accustomed to variability in consumer preferences and well equipped to handle changing economic conditions. But the state of today's world is something that no one could have predicted or prepared for.
No matter their size or industry, manufacturing and logistics businesses will see a few notable trends that will shape the industry in the year ahead. Discover how a contingent workforce solves a variety of challenges and keep your business moving forward.
The variability in supply chains grows more challenging
Because certain types of businesses closed temporarily, and others have faced unprecedented demand for their goods, the supply chain is experiencing delays and shortages. Despite these uncertainties, manufacturers seemed optimistic about their staffing plans even during the peak of the pandemic. According to a survey by Thomas Insights:
56% did not experience and are not planning layoffs.
30% say they are actively hiring.
91% are confident that the industry will recover.
In the coming months, businesses will need to better accommodate workloads and understand when staffing levels may need to be adjusted. They also need to identify any roles that need to be repositioned or restructured. This is an excellent opportunity to determine when and where contingent staff might be beneficial.
After a crisis or recession, businesses are typically hesitant to hire permanent staff. Hiring temporary or temp-to-hire workers can be a suitable alternative when they're unsure about their immediate future and wish to minimize risk.
The effects of e-commerce affect retailers and manufacturers alike
Retailers have been developing new ways to meet changing consumer demand and calls for safer shopping alternatives. Examples include delivery or pickup options and virtual appointments to ensure safety while still offering conveniefnt access to products and services.
Consumers spent $870.78 billion online with U.S. merchants last year, up from $762.68 billion in 2020, per the National Retail Federation. The transition to online shopping has increased the workload for the manufacturing and logistics industry. Most notably, warehouses and distribution centers must be more efficient with picking, packing, and sending items to the package carrier.
As online sales continue to grow with no signs of stopping, bringing on contingent or temp-to-hire workers who can work on a short-term basis is key to delivering these items on time. With this additional support, businesses in manufacturing and logistics can scale much more efficiently. They are also better prepared for future growth in e-commerce.
The shifting nature of the workforce continues to change shape
As warehouses and distribution centers face an influx of demand, people are experiencing significant obstacles in finding or maintaining a job. These include reduced access to transportation, lack of affordable childcare, and various other reasons that may require them to work on a part-time or temporary basis. With the new realities of schooling and working from home, flexible schedules are a beneficial alternative for today's workforce.
Businesses will balance these changes with their own constraints. For example, how many employees they can bring back while still observing social distancing rules. Or how many employees they can afford after a lengthy shutdown. Having contingent or temp-to-hire staff is a great benefit whenever they need additional support. That's especially true during scheduling changes and other disruptions.
Partner with PeopleReady for your manufacturing staffing needs
If you're starting a new project with a strict deadline and a tight budget, getting easy access to workers who are ready to step in and who may have performed similar work in the past is an invaluable asset. Many businesses may not be in a position right now to hire long-term employees. As a solution, temporary staffing can provide flexibility while keeping operations running smoothly.
We're ready to work for you. For our customers, a scalable workforce is always within reach. We listen to your needs and connect you with workers who can get the job done.
Looking for manufacturing workers?