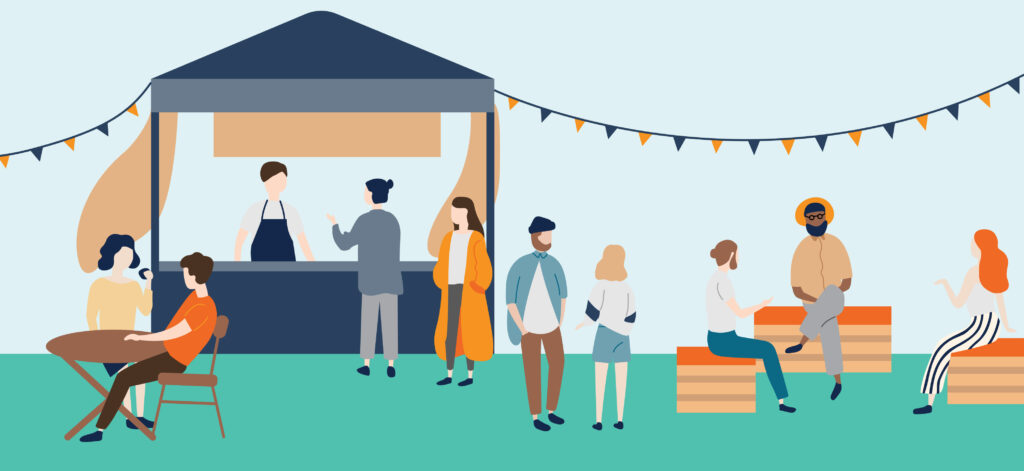 Event staffing solutions for your next event
For many venues, finding enough event staff has become increasingly difficult due to safety concerns and people leaving the industry for other opportunities. As of March 2023, there are nearly 1.5 million job openings in leisure and hospitality, according to the Bureau of Labor Statistics.
If your venue is experiencing staffing challenges, here are the three major benefits of getting temporary staffing support from PeopleReady.
Find workers quickly to fill last-minute openings
Forty-seven percent of the hospitality workforce is resigning or will have resigned within the last six months, predicted McKinsey in a late 2021 report. How is the labor shortage having an impact on the way events are managed? Here are just a few recent examples:
At a University of Oklahoma football game in 2021, fans reported unusually long lines for concessions stands and limited supplies.
LSU had to close several concessions stands and limit food and beverage menus during their 2021-2022 college football season.
Texas Tech experienced service delays and frustrated fans when many part-time workers failed to show up for a game.
To help ensure more consistent staffing, many venues say they are offering competitive pay, bonuses and added incentives.
Also, having 24/7, on-demand staffing support can help you fill staffing gaps to avoid delays and long lines. PeopleReady's app, JobStack, lets event and venue managers post their open roles and see their jobs filled in real time 24/7. They can also rate workers and request their favorite ones to come back for future shifts.
Connect with workers who have the right skills and experience
Many hospitality workers have switched careers because of the pandemic in the past two years. As a result, companies can't necessarily rely on their typical pool of workers. For example, venue management company Spectra, which owns more than 150 major venues throughout the U.S., usually returns 70%–75% of its part-time workforce annually. In 2022, however, they're only expecting 50–60% to return.
What PeopleReady offers you is the ability to find workers with the necessary skills, experience and work ethic. Our staffing experts have extensive industry experience and know how to find workers that meet your requirements. We identify candidates through an extensive interview process including competency assessments and background checks.
Scale your workforce according to your daily and weekly needs
Schedules continue to change at a moment's notice due to COVID-19-related issues during the early months of 2022. In the early weeks of 2022, for example, 2.3 million people who usually work part time missed the entire week for any reason, according to the U.S. Department of Labor. These reasons include illness, vacations, bad weather and family obligations. As a result, venues can't rely on annual trends to predict their staffing needs—and they are being forced to make these decisions on a weekly or even daily basis.
Instead of predicting your future workforce needs, you can make staffing decisions based on real-time trends. Temporary staffing with PeopleReady provides the opportunity to scale your workforce depending on daily or weekly needs. For example, see how we helped an event management company get access to workers across a variety of venues.
Get 24/7 access to events staff today with PeopleReady
During a labor shortage, partnering with a staffing agency can mean the difference between a successful event and having to reschedule or provide inferior service because of staffing shortages. If your event or venue is struggling with a staffing shortage, hospitality staffing agencies can help you staff your upcoming events.
PeopleReady has nearly 35 years of experience in staffing and the benefit of our staffing app, JobStack, which connects employers with active job seekers and fills a job every 11 seconds. Nearly 30,000 PeopleReady customers use JobStack, supported by a vast network of PeopleReady locations across North America. Roles we fill include:
Concession workers
Food servers
Bartenders
Ticket takers
Cleaning crew members
Ushers
And more!