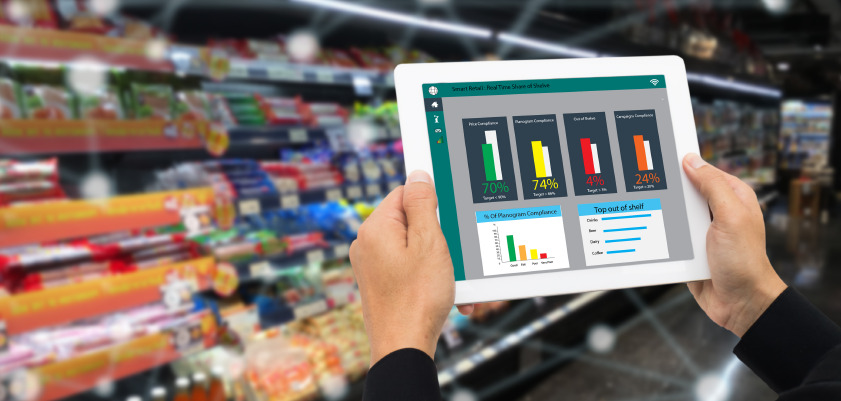 The food manufacturing industry is in a state of flux these days, which has only been emphasized by the COVID-19 pandemic. Some trends will likely fade over time, but others are expected to shift how manufacturers approach their operations going forward.

The pandemic and subsequent stay-at-home orders often limited the number of food manufacturing staff on hand, with businesses having to adjust their work schedules and internal procedures to meet new regulations and standards.
Food manufacturers and the retail supply chain have also been greatly affected by changes in consumer preference. Restaurants temporarily closed and people began cooking more at home, which resulted in a considerable spike in sales for canned foods, baking goods, and other essential items. Ordering groceries online has generally been considered a safer alternative to going to a grocery store.
Online grocery stores in the U.S. rose 9 percent month-over-month in June 2020, reaching $7.2 billion, according to the Brick Meets Click/Mercatus Grocery Survey. The survey also found that 13 percent of consumers purchased groceries online for the first time during the pandemic.
Even before the pandemic, busy lifestyles had led to the growth of food service and more convenient ways to consume food. Supermarkets and grocery stores are capitalizing on this trend, adding meal delivery kits and prepackaged options that are quick and convenient for today's shoppers. These products are perfectly suited for the rise of e-commerce and the increased willingness of consumers to order groceries online.
Throughout 2020, food and beverage has continued to show the most growth of all product categories.
The Long-Term Future of Food and Grocery E-Commerce
Once the pandemic forced consumers to shop online, many of them were drawn to the convenience and will continue to do so in the future. Millions of first-time grocery ecommerce buyers are entering the market, while many online grocery shoppers are now increasing their orders. The number of U.S. digital grocery buyers is expected to surge 41.9 percent this year to 131.0 million, according to eMarketer.
U.S. Retail E-Commerce Sales Growth by Product Category, Percentage Change, May 2020
Food & beverage: 58.5%
Health care, personal & beauty: 32.4%
Toys & hobby: 20.9%
Computer & consumer electronics: 17.9%
Office equipment & supplies: 17.9%
Books, music & video: 13.9%
Auto & parts: 12.6%
Furniture & home furnishings: 12.4%
Apparel & accessories: 8.6%
Other: 17.8%
U.S. Digital Grocery Buyers in Millions, 2018–2022
2018: 76.3
2019: 92.3
2020: 131.0
2021*: 137.4
2022*: 141.7
Source: eMarketer, May 2020
Notes: Ages 14+; digital grocery buyers are defined as internet users who have made at least one grocery order via any digital channel during the calendar year regardless of method of payment or fulfillment; includes grocery delivery and pickup
*Projected.
Staffing for a Digital Transformation
The ability to be agile is crucial for food and beverage businesses. As customers get more accustomed to online grocery shopping, they will be looking at all aspects of their shopping experience, from the quality of the products to customer service. For food manufacturers, e-grocers, and delivery and logistics providers, that means hiring workers who can help with packaging, picking, sorting, and other similar tasks.
As the digital transformation continues to evolve, food and beverage businesses face a unique set of challenges. Changing customer preferences makes it more difficult to accurately forecast demand. Largely due to the flexibility it provides businesses, hiring on-demand staff can help manufacturers cover gaps in their workforce while creating a pipeline of workers who can help them prepare for the future.
During a time when businesses may be more conservative in their hiring, staffing with on-demand workers provides the opportunity to meet consumer demand while minimizing business risk. As businesses look to improve their product offerings, streamline their operations, and better serve their customers, on-demand staff can provide critical support right now and in the future.
If you're looking for a staffing partner who understands the specific needs of food manufacturing and other manufacturing settings, PeopleReady can put your workforce within reach.