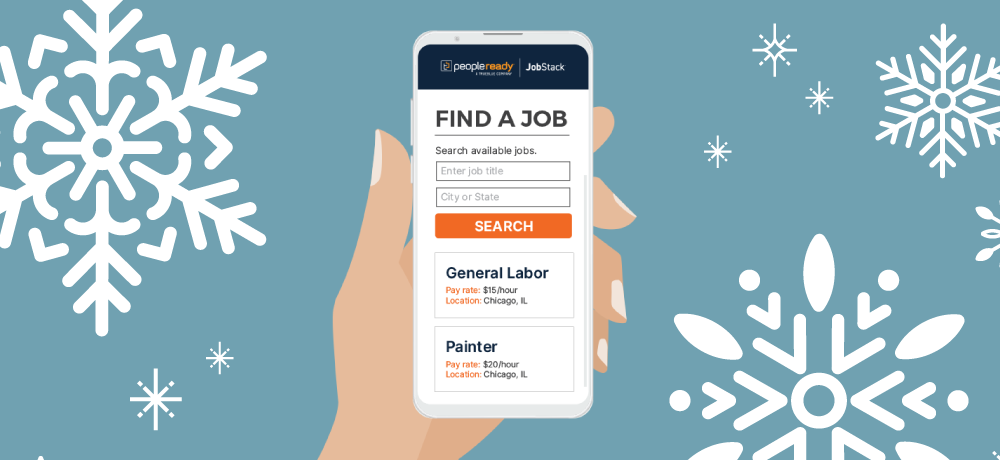 Tips to Ensure a Safe Job Search During Every Season
When temperatures drop and outdoor conditions worsen in the winter, it's more important than ever to think about your safety. Getting to and from work may mean dangerous road conditions and taking jobs that require outside exposure can put you at risk. Whether you're putting in hours outside in the elements or commuting in inclement weather, here's what you need to know to be proactive about your safety.
Check the weather
It's important to know what kind of weather to expect for the day the moment you wake up. That's especially true when it may have major implications on your commute. Also, stay up-to-date on weather changes throughout the day, and watch out for updates that could impact the work site and your schedule the rest of the day.
Update your work status if necessary
If you're scheduled for a job and can't make it to the job site without risking your safety, let your branch rep know. You can send them a direct message through the JobStack app so that they know your situation. This helps you feel more relaxed because you'll have all your bases covered. Plus, your employer will be grateful to know what's going on and whether they need to find a replacement.
Manage your availability and distance traveled to the job site
Your needs and availability may change with the seasons. With JobStack, you can adjust the distance you're willing to travel for work while also selecting the shifts you want. By using JobStack, you won't need to spend unnecessary travel time visiting a branch or have a phone call with your branch rep. Whether you need to keep your commute short when there's bad weather or be available for family obligations, you can control when and where you work.
Review the safety essentials
Being prepared is a key aspect to ensure your safety. Before heading to a job, make sure you check what's required of you. Can you safely and accurately perform the duties being asked of you? Do you have the proper gear and equipment you need to get the work done? If you have questions about any of the essential parts of the job, contact your local branch rep ahead of time so you're well-equipped.
Look ahead on your schedule
Review your upcoming work week, including the different shifts and jobs you're signed up for. With a plan in place, you can reduce your day-to-day stress and feel prepared for each day ahead. Managing your schedule with JobStack helps you stay on top of your work schedule.
Find SEASONAL jobs this winter with PeopleReady
Many industries see their busy seasons in the winter months, giving you the opportunity to earn a paycheck and learn new skills. Retail and restaurant jobs are especially in demand in the winter. But you can also find jobs at sporting events and with vacation destinations popular in the cold weather, like ski resorts. With PeopleReady and our app, JobStack, you have access to all these roles 24/7, allowing you to search for jobs at your own convenience. For example, some of these roles include:
Retail jobs: Merchandisers, store update assistants, cashiers.
Manufacturing jobs: Production and assembly workers, sorters, forklift operators.
Hospitality and event jobs: Hosts and hostesses, parking attendants, prep cooks, servers.
Looking for seasonal jobs this winter?