Around 20% of all retail sales for the entire year are made during the holiday shopping season, according to the National Retail Federation. While it's the biggest shopping rush of the year, it can also be difficult for retailers to get the people needed behind the register and between the aisles. How can you make sure your operations are staffed to provide the best experience possible for your customers, stay ahead of the pack, and avoid fighting for talent alongside thousands of other businesses? Check out our four holiday staffing tips below.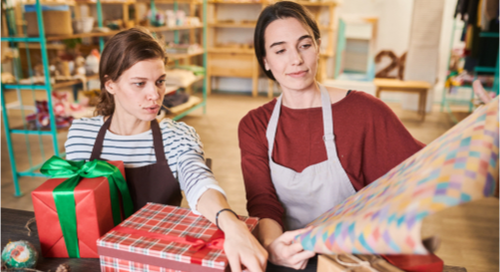 Plan ahead.
Start by determining your hiring needs even before the season begins. Find out what your current employees' schedules look like in the coming months and whether they'll need time off or be available to cover extra shifts. You'll have a clearer view of the number of workers you might need to hire seasonally and fill your shifts accurately. Then, review your busiest days from the previous year and when you'll need the most help. Now it's time to begin the talent search. [For further guidance, check out our holiday staffing checklist!]
Know your customer.
With the rise in popularity of e-commerce, customers' expectations are shifting—and they're becoming more specific about their wants and needs. In fact, according to Retail Dive, 86% of shoppers have left a store because of long lines. So what are customers looking for most when going for an in-store experience? Consumer reports and feedback shows the top expectations are for their experiences to be:
Experiential
Fast
Transparent
Personalized
This means retailers are required to step up, and in turn so do their workers. How are retail companies shifting to meet these new expectations?
A bespoke buying experience.
Forty-six percent of consumers are willing to divulge personal information to get a personalized shopping experience on mobile, notes Retail Dive. Meanwhile, over 50% say that a personal experience in-store very useful and improves the shopping experience. Whether that means offering tailor-made experiences tied to their online behaviors or offering personal touches in other ways, these small gestures toward specific buyers make a difference.
An aesthetic outing experience.
Shoppers can easily find all of the information, reviews and products they want and need from the ease of their phones and computers. You can assume any customer choosing to buy in-store not only expects a seamless, efficient shopping experience but one that's also aesthetically and physically pleasing. Some retailers are remodeling hundreds of stores to create better and safer shopping experiences while others sponsored giveaways.
"PeopleReady provides a professional service and their associates have been punctual, followed direction, have worked with pride, and been very respectful."
Engaged employees.
Employee satisfaction rates correspond directly with the bottom line: 52% of customers said a good customer service interaction influenced them to purchase more from the company, according to ZenDesk. Meanwhile, 58% of those customers recommended the good companies to others. It's crucial to keep your employees satisfied, particularly during this busy season. In turn, they'll deliver the service your customers expect.
Working with a staffing partner for the holidays
With the additional demands during retail's busiest time of year, you don't just need help with workers. You also need a staffing consultant with:
Experience
Expertise
Technology
Nationwide footprint
Volume
With over 600 nationwide branch locations across North America, PeopleReady has the resources available to reach the workers you need. Additionally, you have access to the newest hiring technology right at your fingertips. Worry less about communication and enjoy real-time notifications, updates and insights into your orders. Once you've fully staffed your team and operations are running smoothly, you have the ability to rate workers, submit hours and connect all within one seamless app.