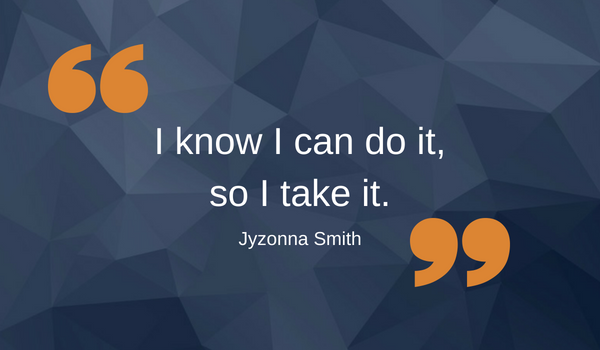 Life is better with family by your side. With family, there's always someone to share a laugh, a cry, a smile, or a story with. Family gets you through long days of work and they're there to share your valued time off. For PeopleReady associate Jyzonna Smith, work is a family affair.
Jyzonna loves to work. Her full-time job keeps her busy on the weekdays, while football keeps her busy on weekends. "I have crazy hours," says Jyzonna. Jyzonna is trying to save for a new house which is why she'll be looking for extra work this summer using JobStack. When asked about JobStack, Jyzonna said, "It saves me time because I don't have to travel out of way…I can just find a job on my phone. I see it's close, I see the hours, and I know I can do it, so I take it." Luckily, Jyzonna has family by her side help her through her long days of work.
Jyzonna found PeopleReady a year and a half ago through her husband. Her favorite placement, which has since turned into a full-time job, was working at USC football games. As a die-hard USC fan and a hotdog fanatic, this placement could not have been better. Except for one thing. Family. Through PeopleReady, Jyzonna was able to create memorable moments for fans with her husband and cousin by her side. Together, they worked every game.
Jyzonna, we're happy to have you in our PeopleReady family.