PeopleReady associate John Pascarelli understands the value of hard work and having a solid family life. His own life has had its ups and downs but today he's definitely on an upswing. He has a full-time job, loving wife and two wonderful sons. The best thing about it is he's also able to achieve balance so he has time for his family while working for PeopleReady.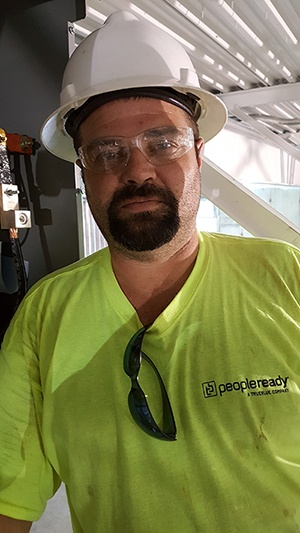 His life may seem a bit chaotic to some, but for John it's an exciting and stable routine. He has a long-term assignment through PeopleReady, feels appreciated by the company where he's working, and enjoys time with his family without worrying about getting work the next day.
He credits the company's new mobile app, JobStack, for some of that stability. Gone are the days of showing up at a branch office waiting to see if there was work for that day. Instead, he checks the mobile app for jobs that meet his skill level, locks them in and plans his life around the schedule he chose. He accepts those he wants and goes back to his family. "You're not missing your kids' breakfast, school, or even side work to sit for hours and get nothing."
Pascarelli says working at PeopleReady is like a mutual "trying out." When he takes a job, he's interviewing the customer as much as the customer is interviewing him. He says, "we get to check each other out and see if it's a good fit." Before his current assignment, he took a wide variety of jobs. "Beggars can't be choosers. I look to take anything. I'm an outside guy, I need to smash my finger once a day to be happy. I like to get dirty."
Since joining the PeopleReady team, Pascarelli has shown himself to be a dependable and committed employee. He turned a two-day assignment into two weeks. Now he's planning to work for the customer at least a year. He's also passed an electrician's assessment, meaning he got a pay raise and is eligible for higher-paying jobs. In fact, Pascarelli has gotten three raises in the past two months, likely due to the rave reviews from the customer for whom he's working. Pascarelli's not beneath doing whatever needs to be done and required by his employer – whether it's electrical work, drywall, or sweeping the floor. It's all for the good of his family.
John's world centers around his wife and two sons. Their eldest recently started kindergarten and they're enjoying seeing his world open. Their youngest is also enjoying the additional devotion from mom while big brother's in school. When John gets home from work, he starts dinner while the rest of the family naps from their busy day. "I love that hug when I get home. We lie on the floor and talk about our days. It's a special time." Then they might read a bit with his other son, work on letters or numbers, or just play around.
Pascarelli is hoping his long-term assignment will result in a full-time job; he's done jumping from job to job. He views PeopleReady as the conduit to those jobs and the networking pipeline. Through the company, he can meet the potential employers in his market that need people with his skills. He believes the same winning strategy exists on the customer side, as they go to PeopleReady looking for employees who are screened, interviewed and meet the required skills.