Many people are only finding PeopleReady for the first time, excited to connect with new types of work and getting to know their local branches. Maybe they're learning the ins and outs of warehousing, helping prep for the wildly busy retail season or perhaps they're navigating the hospitality world, creating welcoming and memorable experiences.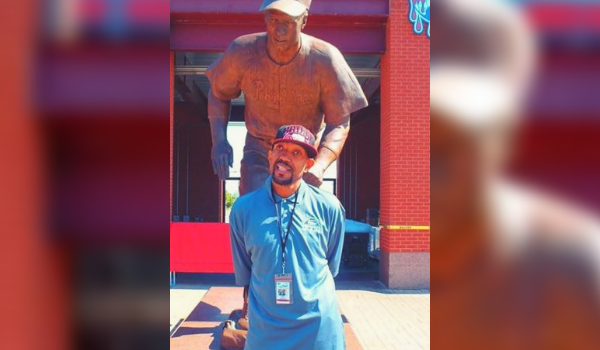 There are some, though, who have worked with PeopleReady for years. Earl Franklin is one of those people, sharing memories of PeopleReady branches that were once LaborReady in his hometown of Philadelphia.
Getting in the Game
For more than 20 years, Earl has visited the offices of PeopleReady to find jobs and over the course of that time, he's cultivated friendships with coworkers and customer service representatives, moved into a full-time position as a facilities coordinator at Lincoln Financial Field, and learned new skills.
An avid sports fan, Earl spends his free time listening to music and laughing with the people around him. It's clear when getting to know Earl that relationships are important to him, both in his work and personal life. He spared a few moments to share some insights with us and we're glad to have the opportunity to share some of Earl's main takeaways from his many years with PeopleReady.
Find encouragement in the people you care for. In October of 1997, a special young lady gave Earl the determination to grow in his work…and ultimately made a big difference in his career path. Earl explained, "I would do all within God's will to be there for her, which means I have to get up and earning income to make that happen; I love sharing my accomplishments with her." Not only does Earl find motivation in his partner, he says life is "a lot more fun."
Earl says the most valuable thing in a coworker is partnership and the ability to work together. He says the most valuable thing a boss can offer is the necessary tools to get the job done well.
Earl believes the most important thing about work is "honestly wanting to be there," which he says is fortunately the case for him. He says his workplace is somewhere he wants to be every day, not only because of his love of sports, but the enjoyment he feels being around coworkers.
Aside from great coworkers, he likes meeting the people attending events and when each of them remember those connections even when off the clock. Clearly he knows that just because you're working doesn't mean you shouldn't make positive connections.
"A temporary work assignment is a paid audition, so do the job as if it were coming out of your own pocket. But most importantly, if you're not satisfied with your work, the boss will not be either." Earl knows that because of his hard work and dedication, he's now been employed by Philadelphia's last two world championship teams.
Lastly, Earl says to share your accomplishments with the people you care for. These moments, large or small, can keep you motivated even when you're tired, feeling down, or stressed.
Next time you're at an event or sports game, think of Earl; he's part of the crew that makes these special occasions happen.