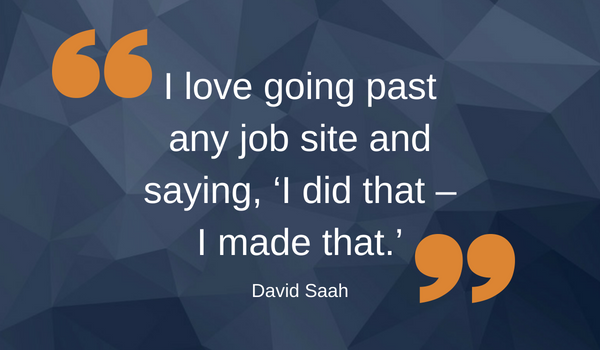 There's nothing more satisfying than admiring a piece of art that you completed. Whether you are rereading lyrics to a song, admiring the brush strokes of a painting, or driving past a mansion you built, that sense of pride always remains. David Saah finds this pride both on and off the stage.
As an artist, David's hands are never idle. His hands are either strumming the guitar or penciling lines in a poem. He takes pride in his artistic abilities, playing for crowds at local open mic nights. Like all talented artists, David leaves a lasting impact on the crowd. So much so, that he returns every Thursday night.
While music keeps David busy, it isn't his only love. Construction will always hold a special place in his heart. David has been working on construction sites for as long as he can remember. He attributes this longevity to his father's company. His father, a skilled architect, would design buildings, and David would help to build it. The unstoppable father-son duo have built many homes, including large mansions.
When not working for his father, David works with PeopleReady. He's worked on a number of PeopleReady construction sites since 1998. He's seen a lot of changes within PeopleReady, most recently the introduction of JobStack. When asked about the new app, David said, "It changed the game. I don't have to show up at 4 AM anymore. The jobs come to me."
When asked why David loved construction he noted that it came down to pride. "I love going past any job site and saying, 'I did that; I made that.'"
David, we feel a sense of pride when we look at all of the amazing work you have done for PeopleReady. Thanks for all you do!