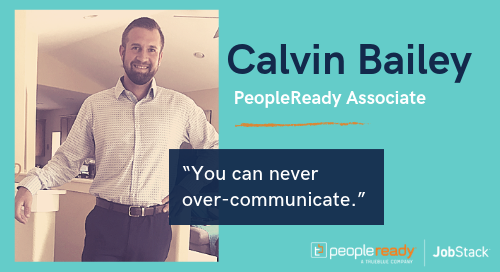 Calvin Bailey is the kind of person you want on your job site: communicative, prompt, experienced in a number of roles and industries, positive to be around, and a reputation as a great teammate. So how did the man with a highly coveted internship at The Bellagio end up working with PeopleReady?
After graduating from the University of Nevada with a degree in Business Management, Calvin gained experience in a number of roles. He worked as a valet and at a liquor store before moving onto IBM as Facility HR Manager. He then switched to a few other companies in various positions, from Operations Management to Quality Insurance Manager, before life took some unexpected turns and he was forced to pivot and examine new opportunities.
Calvin decided it was time for a change and started looking for different types of jobs that got him out from behind a desk. After a quick online search, he found PeopleReady and liked that there were so many branches he could explore. Two and a half years later, he's still finding flexible jobs through PeopleReady and utilizes the JobStack app to connect with the work he wants. After all, he says, "It's easy for me to go on [JobStack] and find things."
Calvin admits that prior to joining PeopleReady, he knew almost nothing about working with his hands, at least within the settings he's in now. He was "typing 130 words per minute but couldn't fix a faucet," but that all changed quickly. Calvin was eager to build his skill set and began learning the tools of the trade, something he wasn't learning in his previous office jobs. Now, he says he has much more confidence and feels ready to get out there and try things for himself. An important skill Calvin says he's gained is learning to be uncomfortable, and being okay in the discomfort. He says, "Understand that you don't know everything – or anything – sometimes."
This mindset has opened a host of learning opportunities, resulting in several full-time job offers from different PeopleReady customers. But right now Calvin enjoys exploring new opportunities that motivate him to grow, learn, and make sure nothing feels stale. The freedom to work in a variety of settings and with different people keeps him on his toes.
Interested in how he has made the most of these job opportunities? Calvin has advice for anyone looking to jumpstart their job search or begin a new career.
"Be a chameleon."
The more adaptable you are and the wider variety of skills you offer, the more likely you'll be to succeed. When you continue to learn, stay motivated, and diligently look for work, countless career opportunities are available for you.
"Show up."
Showing up doesn't just mean physically arriving at the job site; it means mental readiness, too. It's important to arrive at each shift prepared, dressed for the job, and engaged. With a good night's sleep and adequate preparation, Calvin's able to tackle anything—and his employers recognize that. Those multiple full-time job offers are no accident
"Personalize and be sincere."
Calvin believes that every day on the job is an opportunity to network. Learning and remembering names goes a long way. When you're attentive to colleagues at all levels and actively build relationships with them, you leave a positive, memorable impression on everyone around you. Just because a company isn't hiring one day doesn't mean they won't be in another day's time–and that new hire could be you.
"Don't be afraid to ask questions."
When you ask questions, you show you're truly interested in gaining skills and doing well. If you don't understand something, it's an opportunity to learn, meet someone new, and show you're serious about the work.
"Go with the flow."
Calvin says that temporary work situations have taught what a difference being flexible and prepared for change can make. The flexibility he enjoys at work comes with frequent unexpected changes. If you can "think on the fly" you're able to adapt better. According to Calvin, flexible work affords you a life and the ability to take time off when needed, but it doesn't mean you shouldn't also be choosing jobs that will further your career.
"You can never over-communicate."
Communication intersects with all other aspects of working well and advancing your career. It makes a big difference to keep open lines of communication with everyone from Point A to Point B—whether communicating with your branch rep about jobs you're looking for, with the site manager about scheduling, or with your coworkers about the task at hand.
It's clear that Calvin is a strong worker who enjoys connecting with different individuals and seeing job seekers like him find work every day. He knows that because PeopleReady is available and always offering new jobs, he can take the time to explore his next career and decide what works best for him. Until then, he's dedicated to proving his worth, showcasing his acumen, and growing his skill set. According to Calvin, PeopleReady has offered a place for networking, given him a new world view, led him to new experiences, and grown skills he never knew he had.