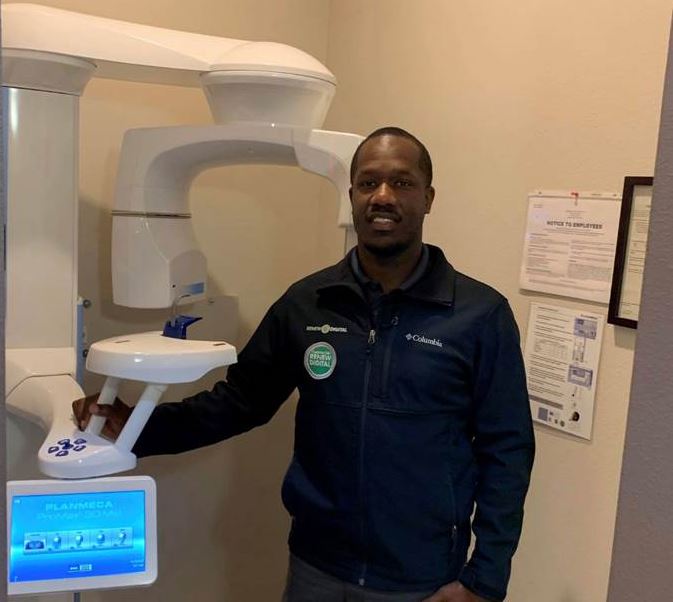 Karis Richmond had just left the Navy after four years and was looking to create a new life. He had a line on a job with the U.S. Post Office. However, he needed some extra money to tide himself over until his paperwork made its way through the postal hiring process.
So, he stopped into the Orlando PeopleReady branch, thinking a couple of temporary assignments should do the trick.
Branch Manager Malcom McCoy would receive rave reviews every time he sent Karis to a customer.
Then Malcom had a thought: Maybe Karis would be the person for a client looking for just the right person.
Renew Digital refurbishes and resells X-ray machines to doctors and dentists. They would request associates to work as helpers for their technicians. Malcom's contact with the company told him they'd be interested in a temporary worker who could quickly transfer to full-time employment.
The company stated the worker would be the "face of the company" for the customer. They needed a perfect fit. The person acts as a helper to a technician removing and installing X-ray machines—and that meant direct customer contact.
"The supervisor told me, 'The person we're looking for only needs to have something explained once to him or her and after that they can work with minimal supervision. Someone with a real head on their shoulders,'" explained Malcolm.
Malcolm knew Karis was just the right person for the job. In the Navy, Karis worked as an aircraft technician on the flight deck of an aircraft carrier—a pressure-cooker environment where there was no room for error. A place where there's never enough time to explain something twice.
Kevin Marler, Renew's senior install technician, could immediately see Karis was a great candidate for the job.
"Right off the bat, he showed initiative," Kevin said, explaining that Karis showed initiative and know-how from the start, with minimal supervision.
Quickly, Renew offered Karis a full-time job as a tech assistant. Shortly after that, they put him through training and made him a traveling tech. Kevin is still impressed with Karis every time he works with him.
"It's the attention to detail," Kevin said.
Are you a veteran looking for work?