Looking for Workers?
Looking for Work?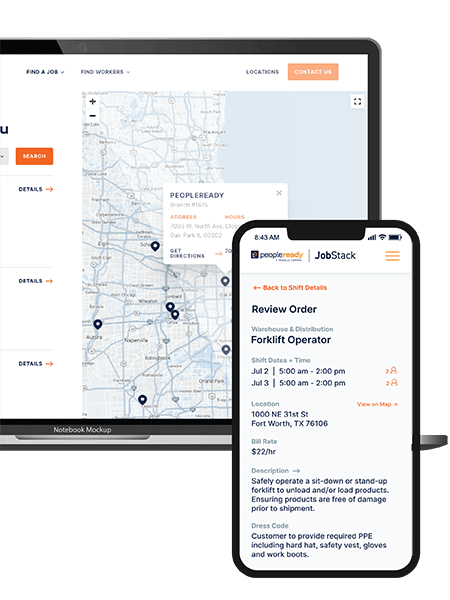 We staff an open position every 9 seconds. How do we do it?
We deliver workers 24/7.
With our mobile app, JobStack, you can place an order and watch it get filled in real time—even on nights and weekends. For those who prefer to work with a representative instead of an app, our team is in your community and ready to assist.
Any size workforce is within reach.
Whether you need one worker dispatched at a local level or require a coordinated effort to fill thousands of openings nationwide, PeopleReady will simplify the process by managing your project from one central source.
Our people come ready to work.
You can depend on us to match your business with quality associates in your area who will show up ready to get the job done right. We'll keep you in the know until the job is complete, so you never have to think twice about your staffing needs.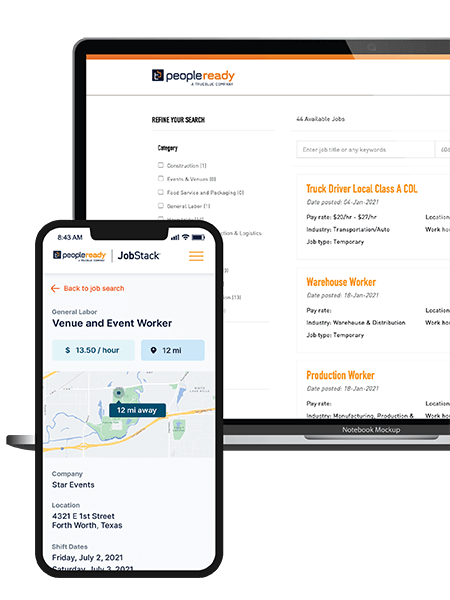 We place someone in a job every 9 seconds. How do we do it?
We care about your job search.
PeopleReady is truly invested in the people we put to work. We support you every step of the way with an easy application process, regular job alerts, and detailed information about your work assignments.
Find jobs faster with JobStack.
Our app, JobStack, gives you access to a variety of jobs that fit your skill set and schedule. Once you're registered, you can accept the jobs you want without having to go through the interview process every time.
Access more relevant jobs every day.
Over time your JobStack experience becomes more customized to your preferences. The more jobs you accept, the more JobStack understands which jobs to display so you can find the right match even easier.
Press Room
Read more about PeopleReady's partnership with Sato, Rahal and Rahal Letterman Lanigan Racing.
Like Sato's drive to succeed, our mission to connect people and work fuels us every day, and we know how to come through when it counts. PeopleReady is proud to partner with Takuma Sato and Rahal Letterman Lanigan Racing and share this mission with communities across the globe.
Are you looking for work to shift your career into the next gear?
Are you looking for workers to get your business across the finish line?
PeopleReady specializes in quick and reliable on-demand labor and highly skilled workers. PeopleReady supports a wide range of blue-collar industries, including construction, manufacturing and logistics, waste and recycling, and hospitality. Leveraging its game-changing JobStack platform and 600-plus branch offices across all 50 states, Puerto Rico and Canada, PeopleReady served approximately 98,000 businesses and put more than 490,000 people to work in 2020.