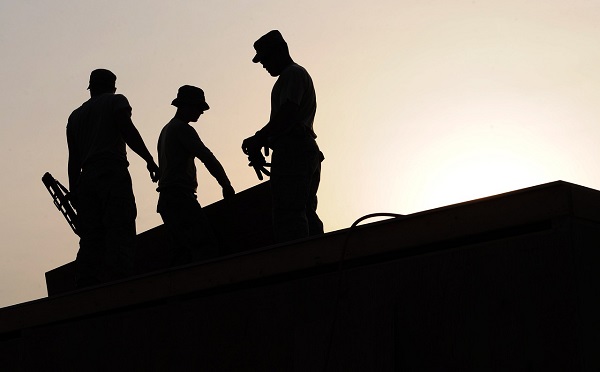 Since Hurricane Harvey struck Texas and Louisiana, countless reports of communities pulling together to help and support each other have emerged. At PeopleReady we've created a GoFundMe account, matched by the company, so our employees can help each other as a number of our team members suffered heavy losses. 12 of our branches were directly affected and we're working hard to send thousands out to help get communities back on their feet.. It's what we do day in and day out…connecting people with work. A few of the stories that have inspired us:
Doing What's Needed to Rebuild
When you put people first, your job description can begin encompassing new responsibilities. That was certainly true for hospitality recruiter Michella Wong. The rainfall from Harvey caused the roof on her home in Houston to collapse, but once she situated her family with relatives, she was in an office recruiting and interviewing people for disaster recovery jobs. Rebuilding her community was now priority number 1.
She was part of the all-hands-on-deck effort to recruit the massive number of temporary associates needed in Houston. "Everybody just focused on the same objective: getting enough workers to help our customers," she said. "That means we work hard, and we work long hours—and we do whatever needs doing."
One Logical Step at a Time
Moises Solis, Houston market manager, looked out his window the morning of the hurricane and saw a flooded neighborhood. Within hours the water was to his doorway and he knew his family had to leave. A kayaker took them to higher ground and eventually they arrived at his brother's.
That's when reality started to hit him. Solis doesn't have flood insurance but thousands of others are in the same boat or worse. He decided to focus his energy on moving forward and taking things one step at a time. Seven of the nine branches he manages were damaged, so the first step was making sure his employees were taken care of, and customers and workers could communicate with branch staff. He's all about logic. Everything is a process—step one, step two, step three…I've taken the emotion out of it." He believes tomorrow will take care of itself. Physical possessions can be replaced. That his family is safe is most important.
In the Bullseye
Branch Manager Jerry Davies was watching the weather for days before Harvey made landfall. He had a feeling they'd be in the bullseye which is why he began recruiting workers early. His prediction was off by only 40 miles, but Corpus Christi sustained major damage.
The branch lost power until another PeopleReady employee was able to bring in generators several days after the storm. The generators allowed branch staff to resume dispatching workers to jobs. Busloads of workers were also sent from San Antonio, coordinated by an army of staff doing what they could to organize the mass amounts of associates.
Ground Central for Customers
A few days before the storm, Amy Jacobs' office in her Atlanta home turned into a one-person command center as she prepared for restoration and disaster service job orders. Once the storm hit she began getting an email, phone call or a text almost once every minute from 6 a.m. until 11 p.m. at night. For at least three days, she was the main point of contact for 300 workers and over eight job sites in Corpus Christi and Victoria.
Amy's done this before so was expecting the 20-hour days. "It's exhausting, but it's what's needed. I worked really hard to build these customer relationships. They count on me to be there for them."
Connecting People with Work
Rebuilding will take months if not years, but PeopleReady's spirit and focus on connecting people with work will remain strong because it's what we do best.