The success of your business depends on the quality of your workforce. You want to ensure that the workers you have showing up every day are dependable and have the skills needed to excel at the job. Working with a staffing company may seem like a risk—you aren't the one in control of who is showing up every day—but it doesn't have to be.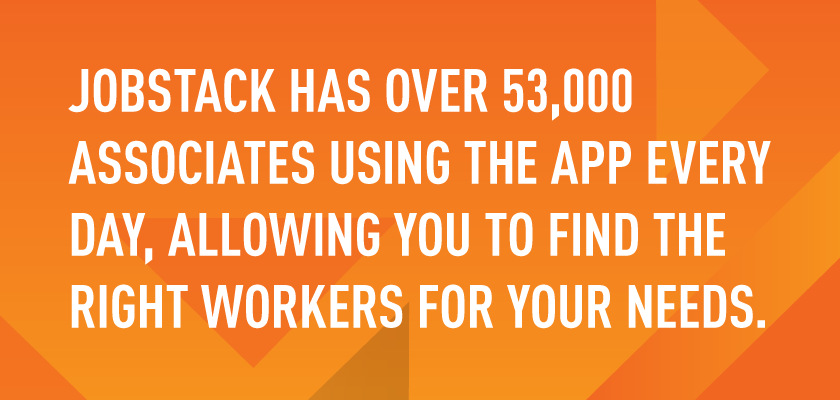 PeopleReady's app, JobStack, helps you build a successful team of on-demand staff. When you use the app to request staff for your projects, you have the ability to rate workers, extend workers on your current job and request top performers again for future jobs. Let's dive further into what all that means for you.
Find top performers
With JobStack, you can give every worker a rating between 1–5 stars after they complete a shift. Not only do you help other businesses spot great workers (and other businesses can do the same for you!), but you will find them more easily the next time you need top performers.
Speaking of top performers: When you need some additional help, JobStack allows you to reconnect with workers who have supported your team in the past. If you find workers you'd like to bring back, just send them an exclusive invitation to your job. That means no middleman and none of the hassle of having to onboard a new worker.
Get access to a flexible workforce
We know every day is different for your business, which means your need for a flexible workforce can change at any minute. Therefore, we offer the ability to extend job orders depending on your unique business needs, like if a project ends up taking longer than expected or if someone is fitting in well with your team and you want them to keep coming back.
After all, the only way to build a successful team is to choose the right workers for your business. JobStack has over 53,000 associates using the app every day, which allows you to find the right workers for your specific needs. Download this infographic to learn more about how JobStack can help you manage your on-demand workforce.
Need more workers for your business?