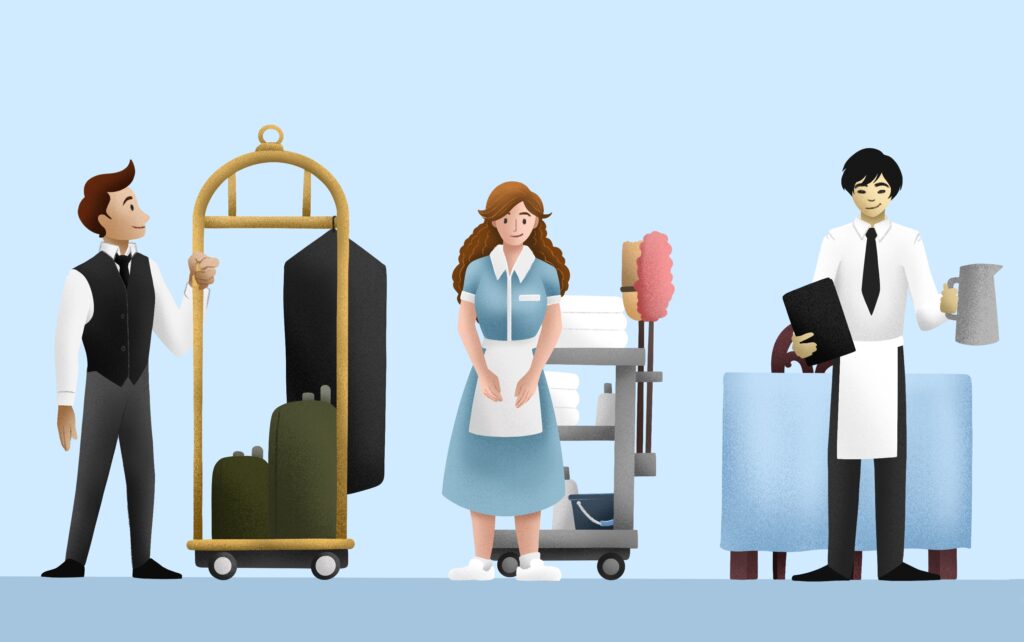 The staffing shortage in the hospitality industry has a massive impact on many types of businesses—from sports stadiums to restaurants to hotels and beyond. The Bureau of Labor Statistics estimates that there are 1.3 million job openings in hospitality as of March 2021—and the number continues to grow. For people looking to enter the industry, this is the perfect time to explore different career paths and see which one you like best. Here are three of the most in-demand jobs in the hospitality industry and why they may be the best career path for you.
Housekeepers
In a housekeeping role, you'll be setting the scene for hotel and resort guests, making sure communal areas and guests' rooms are clean and organized. Creating a welcoming space isn't easy for everyone, but if you have skills like time management and attention to detail, you can excel in a role like this. Some key responsibilities include:
Make beds and replenish linens.
Clean rooms and common areas.
Vacuum rugs, carpets, upholstered furniture and draperies.
Dust and polish furniture and equipment.
Wash windows, walls, ceilings and woodwork.
Culinary staff
Especially after a year of limited dining options, customers are craving a delicious meal out at their favorite restaurants. Every job in the kitchen helps create these experiences. You might start your career by washing dishes or preparing the food to make sure the meal service runs smoothly. Later, you could use the skills you've learned to be a line cook or catering assistant. All these roles are vital to great dining experience for guests—whether you're serving fried pickles or filet mignon. Some key responsibilities include:
Prepare and cook food.
Observe and test foods to determine if they are cooked sufficiently.
Store food at correct temperatures to ensure freshness.
Use blenders, cutlery and ovens to prepare food.
Ensure that all areas are clean and that all quality and sanitation standards are met, including cold and hot storage.
Event staff
Every type of venue from sports stadiums to concert halls to theme parks needs many types of hospitality workers to run smoothly. Each event looks different depending on the occasion. But what each of these venues need is a team of people who enjoy being at the heart of activity. Some key responsibilities include:
Greet customers and take orders for food and beverages.
Take pride in the details of customer service.
Ensure departments are fully stocked with food, drinks, utensils, glassware and paper products.
Conduct transactions and issue receipts, refunds, credits or change due to customers.
Assist with event setup, cleaning and organization.
PeopleReady gives you access to in-demand hospitality jobs
PeopleReady helps you find a variety of on-demand hospitality jobs that fit your schedule. Not only will this help you earn money and learn new skills, but getting hands-on experience in different roles can be a major asset on your job search. According to the American Staffing Association, 9 out of 10 people who work with a staffing agency say that temporary work made them more employable.
With PeopleReady, you get access to jobs through our mobile app JobStack as well as our 600-plus branches across the U.S., Canada and Puerto Rico. Start your career in an exciting industry today!