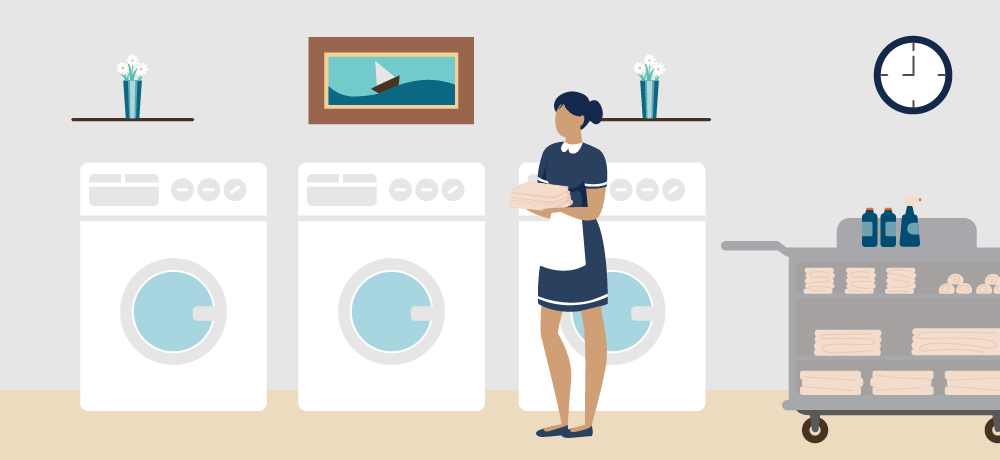 Details on finding hospitality jobs in your area
If you're interested in potential hotel careers, there are plenty of options from which to choose. Laundry attendant jobs, for example, let you work in an exciting hospitality environment while staying behind the scenes. Laundry attendants typically don't need the same skills as frontline, customer-facing hotel staff like concierges and waitstaff. Below, we share what you need to know about becoming a laundry attendant, including wages, general duties and career outlook.
How much does a laundry attendant make?
The Bureau of Labor Statistics says that as of May 2020, laundry attendants earned an average hourly wage of $12.79. Pay for laundry attendants may vary by region and type of employer. Meanwhile, pay is usually highest in upscale hotels and resorts as well as in major metropolitan areas.
What does a laundry attendant do?
Laundry attendants have a variety of duties depending on their work environment. They operate the onsite laundry facility at the hotel and ensure that there's an adequate supply of linens for every room. Some hotels or resorts may require that these workers look after guest requests or help out with event set up along with laundry duties. For instance, some common duties include:
Operating washing or dry-cleaning machines to wash or dry-clean industrial and household articles
Receiving clothing from guests and inspecting them for dirt, stains or any special care issues
Sorting articles by type, color or cleaning care
Adding cleaning solutions such as laundry detergent or bleach
Sorting and folding laundry and preparing for pickup by customers
Cleaning machine filters and requesting maintenance when appropriate
What qualities does this role require?
Above all, laundry attendants must have the physical endurance to lift heavy piles and move around for the majority of the day. Also, they have strong attention to detail and notice the smallest stain or imperfection so that guests receive the cleanest possible linens and garments. Just as importantly, laundry attendants should also be friendly with a positive attitude so that they can help create a positive guest experience.
What qualifications do you need to be a laundry attendant?
The job typically requires no advanced education because workers receive instructions from supervisors or more experienced staff members. Some employers may prefer candidates with previous experience in dry-cleaning, laundry or housekeeping. Regardless of their experience level, workers should have general knowledge of laundering products and chemicals along with a strong work ethic and good organization skills.
What's the job outlook for this role?
Employment for laundry attendants will show little to no change from 2020 to 2030, according to the BLS. Further, jobs are available at hotels, resorts and other lodging.
PeopleReady connects you with laundry attendant jobs and other hotel jobs
In conclusion, whether you're looking for concierge, housekeeping or janitor jobs, PeopleReady's staffing experts can connect you with hotel jobs in your area. Our app, JobStack, lets you apply to jobs 24/7 and choose ones that fit your skill set and schedule, and you can also connect with our staffing experts at one of our many local branches throughout North America. For example, some of the other hospitality jobs we fill include:
Concierges
Retail associates
And more!