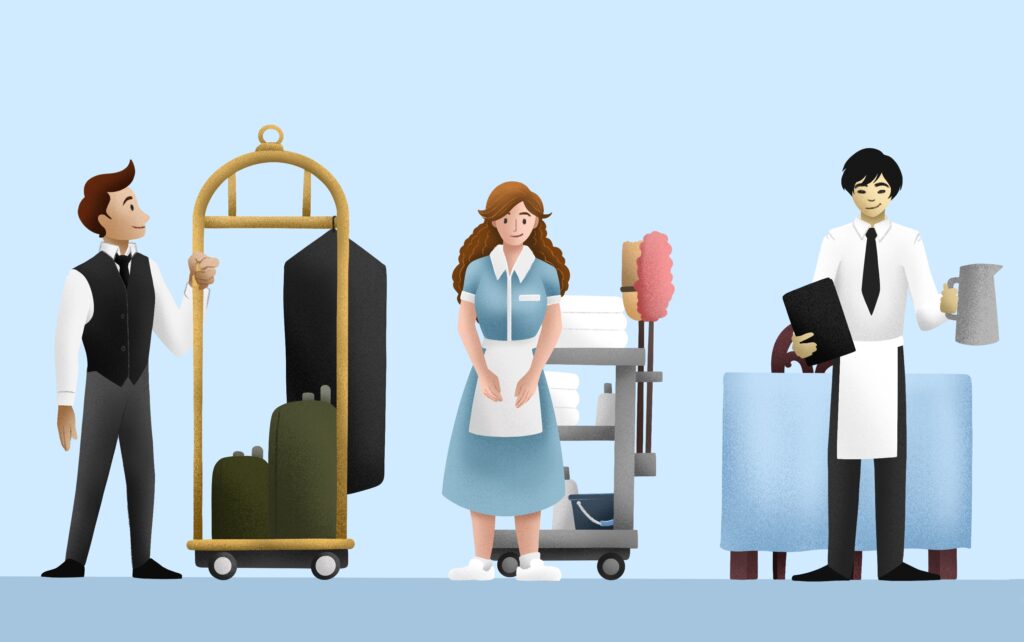 Sprawling ballrooms. Cheering crowds. Last-minute reservations. Perfectly-placed parsley. Hot towels, mud masks, and iced water. What do all of these things have in common? They're all different aspects of the hospitality industry. While a fanatic crowd might be very different from a tranquil spa, they both fall into the realm of hospitality work and are perfect examples of the field's diverse jobs. Which setting do you prefer, and what's the right hospitality job for you?
You'll find hospitality workers in hotels, restaurants, cruise lines, theme parks, stadiums, theaters, and casinos. While many are customer-facing like reception, ticketing, and hosting, there are behind-the-scenes positions like sales, kitchen staff, and cleaning. Hospitality has a wide range of opportunities from entry level to highly experienced, which means there are ample opportunities to get your foot in the door or advance in your already successful career.
What are some of the jobs PeopleReady connects workers with?
Housekeepers
As the person setting the scene for guests to come, your primary focus is getting guests' rooms and the areas they'll be staying in tip-top shape. Creating a welcoming space isn't easy for everyone, so take those hours of interior decorating and makeover TV shows and put them to use! Some housekeeping responsibilities include:
Making beds, replenishing linens, cleaning rooms and halls.
Cleaning areas as assigned by supervisor.
Vacuuming rugs, carpets, upholstered furniture, and draperies.
Dusting and polishing furniture and equipment.
Washing windows, walls, ceilings, and woodwork.
Culinary Staff
A delicious meal can make a huge difference to any experience. You might start by preparing the food—chopping and dicing to make sure the meal service runs smoothly. You could be cooking – roasting, frying, sautéing, and basting each dish to perfection. Your duty may be plating the food that makes people happy. Or, you might be helping to ensure the kitchen is a safe, organized place to ensure freshness and quality. All are vital in a great dining experience for guests – regardless of whether you're serving fried pickles or filet mignon. Some culinary staff responsibilities include:
Preparing and cooking food according to recipes.
Observing and testing foods to determine if they are cooked sufficiently.
Storing food at correct temperatures in order to ensure freshness.
Utilizing blenders, cutlery, and ovens to prepare food.
Making sure the area is clean and all quality and sanitation standards are met, including cold and hot storage.
Event Staff
There are many arms of hospitality in events and venues. Event day can look different for each type of occasion, but one thing that remains consistent is the need for self-starting, adaptable people who enjoy being in the heart of activity. Some event staff responsibilities include:
Greeting customers and taking orders for food and beverages, as instructed by supervisor.
Taking pride in the details of customer service.
Ensure departments are fully stocked with food, drinks, utensils, glassware, paper products.
May conduct transactions by accepting payment by cash, check, credit or debit cards, vouchers, then issuing receipts, refunds, credits, or change due to customers.
Assisting with event setup, cleaning, and dismantling, based on requests from supervisor.
More about Temporary Work
From property managers to janitorial associates to cooks to event concession associates, we help people looking for jobs in exciting industries when you want them and where you want them. Hands-on experience in different roles can be a major asset when job searching as well: a report from the American Staffing Association shows that 9 out of 10 people who worked with a staffing agency say that temporary work made them more employable. We have opportunities to gain experience in a number of careers you're passionate about and give you access to jobs easily, through over 600 local branches and our easy-to-use, mobile app JobStack!
Do you think you have the right chops for hospitality?