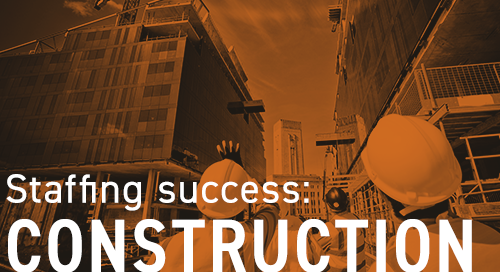 The Customer
Millie & Severson Inc., a Medium Enterprise Construction Company, struggled to find a reliable staffing partner with expertise in their business specific needs. After utilizing PeopleReady to build a temporary staffing team, Millie & Severson Inc.'s operations director, Jim Young, expressed the success of PeopleReady's temporary staffing guidance and help.
Challenge
To meet critical business goals, Millie & Severson Inc. needed specialized construction workers on a large scale and on a tight timeline. Millie & Severson knew they needed to choose a staffing partner with extensive knowledge in both the construction industry and local market, that had access to workers with relevant skills, and that could connect with that pool of workers instantly. To make the challenge even more difficult, they wanted a partner that not only moved quickly but could also provide workforce solutions on both a regional and national level and was supported by a local service team.
Solution
PeopleReady stepped in with 30 years of construction industry expertise and provided highly skilled and trained workers, resulting in saved time, resources, and the ability to meet planned deadlines. Young also saw improved metrics that went beyond the initial challenge: improved worker satisfaction among Millie & Severson's permanent employees, decreased staffing costs, and feeling confident with the ability to find help immediately and locally. Millie & Severson Inc. found PeopleReady's performance significantly better than competitors'. From the ability to join with ease of use, reliability, and customer support they rated "Best in Class," Young says the business saw an immediate return on its PeopleReady investment.
As the largest industrial staffing company in North America, with a national footprint of over 600 branches, PeopleReady is honored to provide quality businesses like Millie & Severson Inc. with the support they need to continue their operations. It is our goal to provide passionate, dependable workers who help our customers do their work well.
Need staff for your business?