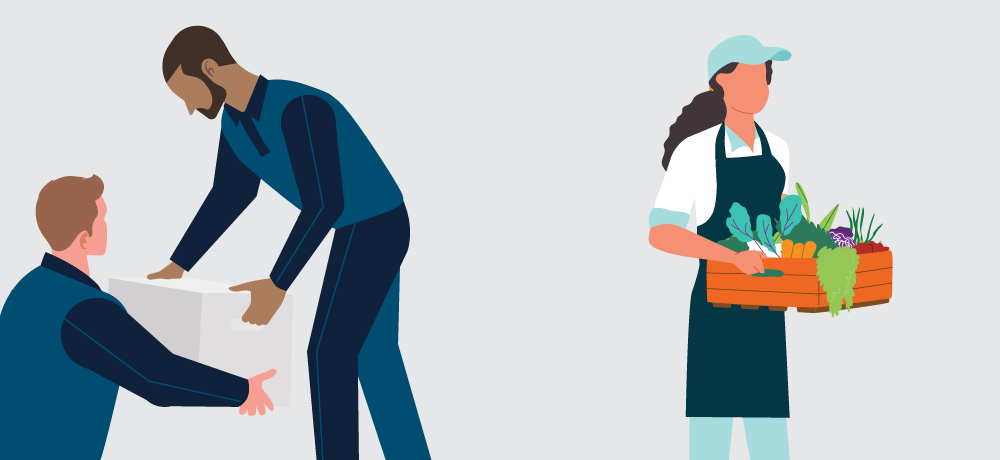 If you live in a colder climate, you know the feeling of waiting for summer to finally arrive. Many people actively seek out jobs that allow them to work outdoors, where they can take advantage of the warmer temperatures. If you'd rather work outside in the sunshine instead of under fluorescent lighting, PeopleReady has you covered with roles in today's busiest industries which all need experienced, dedicated workers like you. Here are five summer jobs that PeopleReady has available right now through our app, JobStack.
General laborer for construction
General labor jobs vary from working on construction sites to moving materials to assisting skilled tradespeople. When businesses need general labor, it's often on short notice and with a tight deadline. A hard worker who is dependable will have many opportunities to earn a paycheck, especially in the summer when the weather allows many cities to ramp up their construction projects. Current in-demand jobs include:
Materials mover
Roofing helper
Carpenter
Flagger
Site maintenance worker
Restaurant server
Outdoor dining is even more popular than previous summers now that restaurants are opening again after a pandemic year. Being a server during patio season means you'll have plenty of opportunities to get fresh air and sunlight throughout the day. This is a great opportunity for job seekers who have excellent attention to detail, good people skills and a friendly attitude.
Cleanup crew member
Every outdoor job site needs a crew that can properly clean up at the end of the day. Duties include safely removing material from construction sites, sweeping and mopping, clearing off outdoor spaces like patios or sidewalks, or washing interior windows and walls. This job is important to prep the job site for the next day and clear out any debris that could be a safety risk. Plus, you'll get to spend your summer doing hands-on work outside.
Landscaper
Whether they're working on a commercial or residential site, landscapers care for and maintain lawns, gardens and plants. They might work with a landscape architect for more involved projects or assist with lawn sprinkler system installations, depending on the demands of the particular role. No matter what, a landscaper will spend their summer days outside enjoying the warm weather, getting their hands dirty and putting their green thumbs to use.
Painter
Now that months of snow and rain are gone, homeowners are ready to give their properties a facelift. You'll find painters not only painting but also preparing and cleaning the site beforehand so that everyone can work quickly and safely. New construction projects for offices and hotels—which are currently on the rise across the country—also need painters so that these venues look their best for guests.