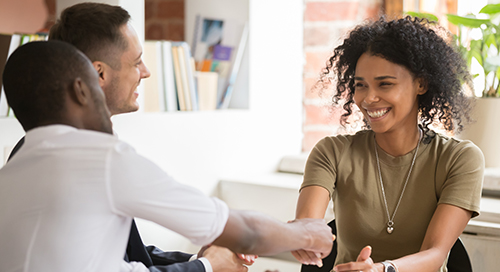 Amid all the shopping frenzy of peak retail seasons come those last-minute needs: coverage for sick employees, last-minute vacation changes, unfortunate no-shows, and delays due to inclement weather. To keep your operations running smoothly (and remaining lucrative), how can you ensure each of the crucial tasks gets done at the end of the day? Here are three reasons our customers shared about why they decide to partner with a staffing firm to get their work done:
1. Cut back on time
Your HR team is maxed out or you don't have the time to recruit, review, and onboard new workers, hiring takes time…and hiring well takes experience. Since recruiting trends are continually changing and job seeker expectations in flux, working with a staffing partner—particularly one with national and local expertise—eliminates unnecessary time wading through the learning curve of seasonal hiring.
2. Reduce paperwork
You're equipped with the workers you need, instead of sifting through stacks of paperwork and scheduling meetings, they (and you) can get right to work, doing what needs to be done. Not only will a staffing partner handle the ongoing paperwork that comes with employees, but they can also alleviate the stress of payroll and ordering if they offer a mobile and desktop application that allows you to do it all in one place. The more you're able to do with a streamlined app, the more you're able to control your time and resources.
3. Increase efficiency
If you're equipped with the support you need, both in terms of your workforce and your staffing partner, you're able to get a whole lot more done. We've seen the curve balls and understand how to supply specifically for your business needs, which means you're able to quickly and efficiently overcome staffing obstacles that might come up.
Hiring temporary staff for your holiday coverage can be an excellent option, but only if you're working with the right people to do the job well. PeopleReady has the expertise and presence to take you through the holidays and beyond. See how you can get started for holiday hiring success today and connect with your PeopleReady representative.